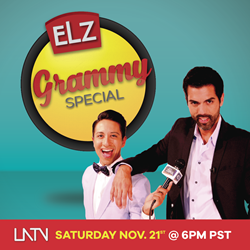 "This special presentation of En La Zona will bring you the Latin Grammys in a bold, entertaining and irreverent way."
Los Angeles, CA (PRWEB) November 17, 2015
LATV, the original national, multi-cultural entertainment network announces a special Latin Grammy presentation of its flagship entertainment news show En La Zona.
This special presentation of ELZ, hosted by Super Estrella FM's Kevin Ramirez and LATV personality Dennis Pastorizo, will offer viewers an all-access pass to the 2015 Latin Grammys from Las Vegas, including official coverage of the Latin Grammy Green Carpet, the Red Carpet for the Person of the Year Award recipient Roberto Carlos, and exclusive interviews with nominees and performers such as Moderatto, Los Autenticos Decadentes, Diamante Electrico, and Leonel Garcia, among others.
En La Zona Latin Grammy Special airs exclusively on LATV, Saturday November 21st, 9PM EST / 6PM PST!
"This special presentation of En La Zona will bring you the Latin Grammys in a bold, entertaining and irreverent way," says Luca Bentivoglio, LATV's COO explains. "Just like the rest of our ever-evolving programming, it's hip. It's fun. It's now."
About American Latino Syndication:
LATV Network's fully-owned subsidiary, American Latino Syndication, produces and distributes "American Latino" and "LatiNation," two award-winning, Latino-themed TV programs that are broadcast on general market stations in over 100 cities nationwide. All LATV's original shows and American Latino Syndication productions are entirely produced at The Complex Studios, the full service, state-of-the-art production center located in West Los Angeles