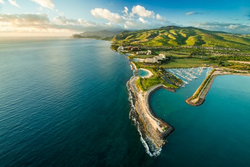 Ko Olina Resort intertwines the environment, culture and history of Oahu's western shore to create the true Hawaii experience.
Ko Olina, Oahu (PRWEB) November 20, 2015
Ko Olina Resort intertwines the environment, culture and history of Oahu's western shore to create the true Hawaii experience. The resort celebrates the accomplishments and passions of the entire surrounding community. Here are a few select adventures and tips to best experience what's new in and around Ko Olina Resort.
IN KO OLINA
Aquatic Safari: Beginning at Ko Olina Marina just after sunrise, this excursion is an amazing way to start the morning. Guests are most likely to see spinner dolphins on their morning swim as the boat cruises up the leeward coast. Tip: go in the morning just after dawn as its their most active time of day. Complete the morning with a snorkel session in "Turtle Town" where turtles have their shells cleaned by hundreds of colorful fish. Tour time begins at 7:00 a.m and guests can book a tour here.
Sip & Play: Whether staying at Ko Olina, or utilizing their free roundtrip transportation from Waikiki, guests can book a day full of golf under the Hawaiian sun at Ko Olina Golf Club. Black swans greet guests at the Ted Robinson-designed course, which was voted one of Golf Digest's "Top 75 Resort Courses in the U.S." and features views of both the Waianae Mountains and the Pacific Ocean.Tip: head up to the on-property Roy's restaurant for a Ko Olina Ol' Fashioned with Knob Creek bourbon, Elixir G, Agave Syrup & Bitters. Book tee times in advance at: http://www.koolinagolf.com/tee-time-reservations/.
AROUND KO OLINA
Monk Seal Saviors: Hawaiian monk seals, or "ilio-holo-i-kauaua," are a wonderful yet endangered species that often come ashore on Ko Olina's beaches, and the resort supports their protection. The Monk Seal Foundation, based in Maui with correspondents on Oahu, has passion and love for these animals and wants to educate people on how our species can safely and happily coexist. They welcome volunteers and serve as "guardians who work to give seals their space." Volunteer on Oahu.
Hawaiian Dairy Farm: "When the world gives you spoiled milk, you make cheese." The Naked Cow Dairy Farm on the west side of Oahu is a pure and organic farm that produces all-natural cheeses with a touch of Hawaiian flair. Monique Van der Stroom, the owner of the farm, runs small tours throughout the grounds where guests can collect chicken eggs, milk cows and feed the calves. She also hosts wine and cheese parties during sunset so visitors can enjoy a farm-style soirée and eat delicious homemade cheese. Tours and parties can be booked at http://www.nakedcowdairyhawaii.com.
Mālama Learning Center: This non-profit organization is a hub of learning in West Oahu and has an inspiring economic and social impact on the community. The Mālama Learning Center, which is partnered with a local high school, shares history, arts, science, culture, conservation and sustainable health to the students of the community. The middle- and high-schoolers are interactively involved with farming the taro fields, as well as creating and selling traditional Hawaiian instruments and tools from their ancestors' time.
About Ko Olina Resort
Ko Olina is a 642-acre master-planned resort community on the western shore of the island of O'ahu. Resort partners include Aulani, A Disney Resort & Spa, Four Seasons Resort O'ahu at Ko Olina (set to open in June 2016), Marriott's Ko Olina Beach Club, Beach Villas at Ko Olina, Ko Olina Golf Club, Ko Olina Marina, oceanfront wedding chapels, and the Ko Olina Station and Ko Olina Center retail hub. The resort, known as O'ahu's premier vacation destination, also features four pristine oceanfront lagoons connected by 1.5 miles of shoreline pathways, access to a diverse selection of ocean and outdoor activities and the island's best weather.