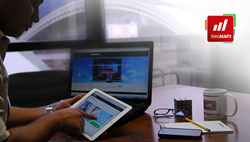 Mobilize products, including WebMAP3 and VBUC, support Visual Studio 2015
New York, NY (PRWEB) November 18, 2015
Mobilize.Net today announced at #Connect2015 that its industry leading modernization tools WebMAP3, VBUC and Mobilize Silverlight bridge now include support for Visual Studio 2015. In the latest updates, Mobilize products support Visual Studio 2015 project and solution files and are able to take advantage of the latest enhancements available for Visual Studio 2015.
Mobilize.Net helps companies move critical code to .NET, to the web, to mobile devices and to the cloud. Every day thousands of developers use Mobilize.Net modernization tools to transform important line-of-business applications from old systems to modern platforms. The recent releases of WebMAP3, VBUC 6.5 and Mobilize Silverlight bridge have all added support for Visual Studio 2015, enabling developers to be fully productive on the latest and most popular development tool.
"Developers rely on Visual Studio for app development," said Tom Button, CEO of Mobilize.Net. "Mobilize.Net products fully support Visual Studio 2015 which means that our customers enjoy the ultimate productivity."
"Mobilize has been a great partner of Microsoft for many years," said Mitra Azizirad, General Manager of Developer Platform Marketing and Sales at Microsoft Corp. "We appreciate that they continue to shepherd customers to the mobile-first, cloud-first world and provide productivity solutions."
Mobilize.Net will live stream the #Connect2015 event on its website at http://www.mobilize.net/microsoft-connect-2015 beginning at 7am PST Wednesday, November 18, 2015.
About Mobilize.Net
Mobilize.Net accelerates and simplifies the transformation of software applications to .NET, web, mobile, and cloud platforms. Millions of developers have used Mobilize.Net technology to successfully modernize billions of lines of code. Mobilize.Net solutions enable customers to reduce risk, cost, and time while moving applications to the platforms businesses demand today. Mobilize.Net migration technology is Microsoft's chosen solution for Visual Studio and MSDN customers. The privately-held Mobilize.Net is based in Bellevue, WA, and is led by former Microsoft Corporate Vice President, Tom Button. For more information, please go to http://www.mobilize.net.