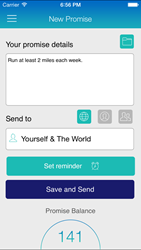 Dream alone and it's a dream... dream together and it's a reality.
New York, NY (PRWEB) December 01, 2015
The "You Promised" app released by Four Rooms LLC, offers a way to enter and share goals with the world, and request backing for those goals, or "promises." When making a promise, people must set an expiration date, and at that time, answer whether they've kept the promise or not. Since the app's release, over 1300 users have joined, making over 150 promises.
If marked successful, all backers will earn "promise-credits" (the app's internal currency) into their own accounts. New users start with 5 promise-credits, and can increase their balance with in-app purchase, for as little as 10 cents per promise.
Each action: Making a promise, backing another's promise, or sending an encourage message, deducts 1 "promise-credit" from the balance. The global promises made range from light-hearted to serious, to ironic.
One user, Immy, has promised to "Be 52 kgs by Christmas Day," an anonymous user has promised "To not eat any junk, to walk the dogs everyday & to lose some weight" and someone has even promised "Not to check their phone every 5 minutes."
Four Rooms, LLC's lead developer, Teju Prasad, states, "The currency element ensures that a backing action is meaningful, not just an empty Facebook-like or a Twitter favorite." He also added, "Earning promise-credits by backing others is one of the app's strongest features. It creates a cycle of people supporting each other."
Each promise is personalized with a vocal signature recorded directly into the app. Prasad continued, "The profile and promise sending interface was designed with a quick setup in mind, to give users easy access to their affirmations and supporters."
In addition to global promises, the app allows one to create promises for themselves, or send them directly to a trusted friend. Prasad concluded, "With new years resolutions right around the corner, using You Promised could just tip the balances in your favor to stick with them past January."
###
You Promised can be downloaded here: http://apple.co/1FC4SP5 .
Watch the demo video: https://vimeo.com/112816274
Four Rooms, LLC is a media & mobile app development company based in New York, You Promised is the companies 4th app on the store.