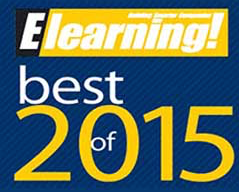 Charlottesville, VA (PRWEB) November 17, 2015
Since launching in 2013, the ArcheViewer has empowered the nation's leading healthcare organizations to more effectively deliver and analyze hundreds of online training programs. The elearning and analytics platform, developed by ArcheMedX, enables healthcare educators to construct online learning experiences that nudge their learners to take action at the right moments, helping to move newly learned concepts into long term memory. By capturing how learners actually interact around planned content, educators can access new types of learning data and analytics to more efficiently assess and continuously improve their education programs.
In its 11th year, the Best of Elearning! Awards are the exclusive users and readers choice awards program for e-learning products and services. Readers and professionals from both the private and public sector cast more than 4,000 nominations for the best-in-class solutions across 30 product categories. This year the ArcheViewer's users nominated it as the best "Learning Analytics Solution".
The Voting Process
Elearning! Media Group readers, practitioners and community members nominated and voted for products and solutions via Elearning! Media Group's online ballot. All ballots were cast between August 1 and October 15, 2015. Each ballot was reviewed and validated by the editorial team and all vendor ballots were voided.
Joel Selzer, CEO of ArcheMedX, commented, "While we are certainly honored to have the ArcheViewer recognized by our users as one of the best elearning solutions of 2015, the real winners are the millions of patients that are benefiting from the improved training their doctors and nurses have received."
To learn more about how ArcheMedX is transforming online learning across the healthcare industry, please contact the ArcheMedX team at info@archemedx.com or schedule a product demonstration of the ArcheViewer today.