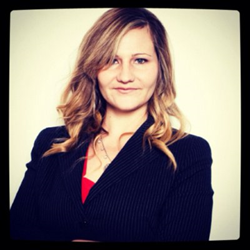 Motive has empowered me to grow and develop in the mobile advertising industry, I hope to continue to share my knowledge and empower other women along the way", Mrs. Shauna Son.
San Francisco, California (PRWEB) November 17, 2015
Motive Interactive, a San Diego based mobile ad platform, has been recognized as a winner in the Annual 2015 Golden Bridge Awards®. Director of Operations, Shauna Son was named Woman Professional of the Year.
The coveted annual Golden Bridge Awards program with active participation from a broad spectrum of industry voices from around the world, encompasses the world's best in organizational performance, products, innovations, management teams, and marketing campaigns from every major industry in the world. Winners were honored in San Francisco on Monday, November 16, 2015 during the 6th annual awards dinner and presentations.
Motive Interactive's Director of Operations, Shauna Son has been an integral part of the Motive team and a thought leader pioneering the digital media and mobile advertising industry for over ten years. Shauna has and continues to develop, manage and train employees on new processes for Motive's Operations Department. This department started with two employees and has tripled in size in the last year under Shauna's direction. In conjunction with expanding the Operations Department, Shauna has helped increase this mobile advertising platforms overall revenues by managing some of its largest clients.
"Motive has empowered me to grow and develop in the mobile advertising industry, I hope to continue to share knowledge and empower other women along the way", said Mrs. Son.
Furthermore, Shauna continues to work with management and other departments to plan and implement new company tools that keep Motive ahead of mobile technology trends. Shauna has directed new accounting processes by creating significant efficiencies in billing and collections with both the Sales and Operations teams of the company. Shauna points out "everyone at motive is moving forward together, collaboration is a key factor in our success and growth as a company."
"It's an honor to be recognized as one of the Best Women Professionals by The Golden Bridge Awards," said Shauna Son "These awards are a testament to Motive's commitment to empower partnerships with customized mobile ad solutions, cutting edge technology, and industry expertise."
Motive Interactive was also recognized at the awards where the companies CEO and Founder, Brendan Smith, was awarded The CEO of the Year Award for the third time.
About the Golden Bridge Awards
Golden Bridge Awards are an annual industry and peers recognition program honoring Best Companies of all types and sizes and the people behind them in North America, Europe, Middle-East, Africa, Asia-Pacific, and Latin-America, Best Products and Services, Innovations, Management and Professionals, Women in Business and the Professions, International Business, Corporate Communications, PR and Marketing, Product Management, Customer Service, Support, Human Resources, Information Technology, and Company Milestones.
About Motive Interactive
Motive Interactive, established in 2003, is a technology driven mobile ad platform that represents brands across all verticals with a core focus on mobile marketing and user acquisition for leading apps. Motive has been recognized by numerous publications including: The Inc. 5000, Deloitte Fast 500 and San Diego Business Journal as one of the fastest growing companies in the United States. Notably, Motive was also named #5 on TUNE's list of Top 25 Mobile Ad Partners a list that includes; Twitter Ads, Google AdWords, InMobi, AdColony, MobPartner, StartApp, Apple iAd, Chartboost and Millennial Media to name a few.