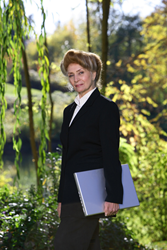 Grants Pass, OR (PRWEB) November 17, 2015
People are more likely to feel thirsty in summer than in winter and as a result, they fail to drink enough water during winter months. According to Water Life Science® advocate Sharon Kleyne, neglecting one's daily drinking water as winter approaches can lead to numerous health problems including greater flu susceptibility, increased holiday weigh gain* and physical dehydration that can trigger a wide range of illnesses. Winter weather, Kleyne reminds us, can be more dehydrating than summer weather and maintaining daily hydration is just as important.
Kleyne will discuss winter health, daily water intake, dehydration, flu resistance, holiday weight gain and Water Life Science® on her radio show of Nov. 23, 2015. For the live show or a podcast, go to http://www.SharonKleyneHour.com.
The globally syndicated, education oriented Sharon Kleyne Hour® Power of Water® radio show is heard weekly on VoiceAmerica (Health and Wellness, and Variety Channels) and Apple iTunes. The show is sponsored by Bio-Logic Aqua® Research Water Life Science®, founded by Kleyne and specializing in fresh water, the atmosphere, body surface evaporation and dehydration. The Research Center's signature product for dry winter skin is Nature's Mist® Face of the Water®.
Seventy-five percent of the North American population, Kleyne notes, is chronically dehydrated no matter what the season and winter only makes it worse. The global dehydration epidemic, Kleyne believes, is related to climate change. She is concerned that too few doctors check patients for dehydration and believes much more research on dehydration is needed. The human body is 70 percent water and every cell, process and structure depends on daily water intake to function properly.
Winter weather is dehydrating for several reasons, says Kleyne. Most important is that cold air cannot hold as much atmospheric humidity as warmer air. As a result, cold air is usually much dryer. The dryer the surrounding air, the greater the air's ability to receive and hold water that evaporates from the skin and eye surface. Water lost to evaporation via skin and eyes is replaced by water from the body, which can cause the body to become dehydrated.
In more humid air, the reverse is true. Skin and eyes can absorb a significant amount of their daily water directly from atmospheric humidity. However, not only does cold air contain less water to absorb, but the skin's pores contract in cold weather and can't absorb water as easily. On the other hand, in the presence of cold air, surface evaporation slows in and there is little perspiration.
The temperature of the water we drink is also a consideration. Warm water is absorbed more completely by the body and is less likely to pass quickly into the bladder. In summer, when the body may need to be cooled, water temperature is less of a factor. In winter, because the body needs to be warmed up and has a more difficult time detoxifying, warm water is preferred.
Other winter factors also affect the body's water needs, Kleyne notes. Cold wind is extremely dehydrating. Increased time indoors, in rooms with forced-air heating and insulated walls and windows, is dehydrating because artificially heated air tends to lose humidity. Drinking extra water also protects against colds and flu, which are far more common in winter because the immune system functions best when the body is fully hydrated. Drinking water also suppresses one's overall appetite and food cravings, which can be beneficial during the holiday season.
Summer or winter, Kleyne recommends eight glasses of fresh water per day in addition to all other fluid intake. Increase to 10 to 12 glasses if coming down with a cold or flu. Begin each day with two full glasses upon rising and try not to sip the water. Avoid drinks with caffeine, alcohol or excessive sugar. Children ten or under should drink half their body weight in ounces per day.
©2015 Bio-Logic Aqua® Research Water Life Science®. All rights reserved.
Source:
*Lee, BB, "Secret to Avoiding Holiday Weight Gain," Bella Online, Nov. 12, 2015
http://www.bellaonline.com/articles/art302052.asp