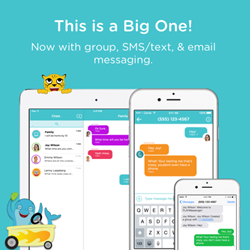 Had the child been on PLAYMessenger this inappropriate communication would have never happened.
(PRWEB) November 18, 2015
Today PLAYGround Digital has launched an updated version of kid chat app called PLAYMessenger for the App Store and Google Play Store which allows children to chat with their parents' approval and monitoring in a safe and protected environment. Like other messaging apps, users can send texts, photos, and voice notes; however, PLAYMessenger really stands out as the only kid's chat app with layers of security and monitoring features that ensure kids are kept safe from foul language, bad pictures, social media, in appropriate advertising, etc. while preserving the parents' peace of mind because they can remotely monitor from almost any mobile device.
"There is a major concern among parents that children using messaging apps like Kik and Snapchat are vulnerable to outsiders," said CEO and PLAYGround Digital Co-founder Danish Ahmed. "Last week, a Secret Service Agent entrusted in protecting the President at the White House was caught in a sting operation, sending naked pictures of himself to what he thought was a 14-year-old girl. He admitted doing this while at the White House on duty. Had the child been on PLAYMessenger this inappropriate communication would have never happened."
Despite the fact that 56 percent of children between the ages of 8 and 12 own a smartphone, most chat apps are not appropriate for children to use. Popular messaging app Kik, for example, is aimed at users 17+ and photo messaging app Snapchat is only recommended for users over the age of 13. Neither app has safeguards put in place that would allow young children to use them safely.
PLAYMessenger is the only PRIVO partnered, Federal Trade Commission COPPA compliant, fully moderated app option that prioritizes children's safety, privacy and security.
In 2014 alone, the CyberTipline received 1.1 million reports of Child Exploitation with many related to pornography issues. A portion of which were online enticement including Sexploitation. Thorn, an organization backed by Ashton Kutcher and Demi Moore, has made its mission to fight child sexual exploitation. According to thorn there are over 325,000 children at risk and 42% of sextortion victim met perpetrators online.
"I've personally heard numerous stories from our users where their kids were approached online by predators and were asked to meet or be picked up. Luckily the parent was able to intervene and report it to the authorities. PlayGround Digital and our apps' objective are not only to provide parents and children with a safe way to communicate online, but also to educate children to the potential dangers of instant messaging, and to provide them with the tools they need to become informed digital citizens." adds Ahmed.