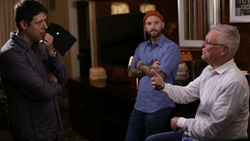 Science can't prove or disprove a miracle, because it can only observe natural things. However, science can corroborate a testimony, or show one did not occur.
Redding, Ca (PRWEB) November 20, 2015
Do healing miracles happen? If so, is there medical evidence that corroborates the testimonies of those claiming to be healed? Elijah Stephens, the former Vineyard pastor, is documenting his journey to find the truth.
What makes this journey unique is that a traveling preacher, Shawn Bolz, gave Elijah a "prophetic" word to make the film. He was told his name, birthday, that he lived in Chattanooga, grew up in Georgia, and that that God had commissioned him to make the film. Is this a con, or the real deal?
Elijah spent the summer of 2015 interviewing supposed miracle workers like Randy Clark, Heidi, and Rolland Baker. He has also interviewed academics such as Dr. Candy Brown who was published in 2010 in the Southern Medical Journal that prayer improved the eyesight of some people who were prayed for. Elijah has interviewed believers, skeptics, scientists, faith healers, academics, doctors and philosophers.
He launched a Kickstarter and received $21,000 in pledges in two days toward his $116,500 dollar goal. Upon the film's funding he will begin interviewing more skeptics, and confirm his cases.
Kickstarter campaigns operate under an "all-or-nothing" funding model so if the documentary doesn't reach it's goal at the end of 31 days then it might be years before you'll see it on the market.