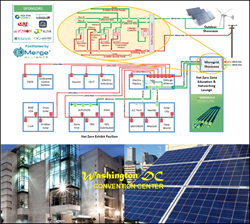 (PRWEB) November 19, 2015
EMerge Alliance announced today it has completed preparation for a solar powered Net Zero Zone on the 2015 Greenbuild International Conference and Expo tradeshow floor at the Washington Convention Center in Washington, DC Nov. 18-19, 2015.
The solar powered system was designed using EMerge Alliance standards for the hybrid use of alternating current (ac) and direct current (dc) power in buildings. It includes three solar arrays of various technologies located at street level outside the convention center. The solar is directly coupled with the latest battery storage technologies on a direct current bus. Three different energy conversion and management systems will demonstrate the distribution of both ac and dc power to tradeshow exhibits on the show floor.
Facilitated by EMerge Alliance for the second straight year, the Net Zero Zone (NZZ) contains a presentation area and exhibit booths within the conference center. "Building off the initial success of our first small microgrid at Greenbuild last year, this year's system includes more solar, more power conversion options and more battery technologies connected to interoperable direct current buses. With solar coming into the mainstream, and the Internet of Things on the horizon, direct current (dc) power systems are more important than ever" states EMerge president Brian T. Patterson.
The Net Zero Zone at Greenbuild is comprised of three areas:
1) An outdoor demonstration area, featuring solar and wind power generation, and located at the Southwest corner of the Convention Center, is connected directly to microgrid storage and distribution equipment located in the presentation area within the show floor Net Zero Zone.
2) A Net Zero Zone Presentation area houses the storage and distribution equipment that can be easily viewed behind a clear Plexiglas wall. This area also houses a presentation area and networking lounge that will feature a ceremonial "un-plugging" (going off grid) to kick off the show, and sponsored presentations during the two days of the show.
3) A specifically designated exhibit area, just across from the Net Zero Zone Presentation area, which will include 20 booths that are fully powered by the solar powered microgrid.
The official launch, or Opening Ceremony, of the Net Zero Zone will take place Wednesday, Nov 18 at 10:30am in the Net Zero Zone Presentation Area, and all Greenbuild attendees are invited to attend. Speakers at the opening ceremony include Brian Patterson, president of EMerge Alliance, Doug Hollett, Deputy Assistant Secretary for Renewable Power, Office of Energy Efficiency and Renewable Energy, US Department of Energy, Nate Allen, Advocacy Lead, Center for Green Schools at US Green Building Council (USGBC), The Honorable Jim DeCesare, Representative, Kentucky State House of Representatives, The Honorable Chris Lee, Representative, Hawaii State House of Representatives, and Griffin Thompson, PhD, Director, Office of Electricity and Energy Efficiency, Bureau of Energy Resources, US Department of State.
EMerge Member companies will be displaying products manufactured to comply with EMerge Alliance Standards in their respective booths, the EMerge Alliance booth and the NZZ Presentation Area. According to Patterson, the Alliance is on a mission to create what he calls the 'Enernet,' or simply a more resilient and sustainable network infrastructure for electric power, the same way the Internet created such an infrastructure for data. The Greenbuild 2015 Net Zero Zone demonstration will give attendees a hands-on look at the technology that will eventually evolve to become the new Enernet, a true distributed network of electric power. "The new network doesn't replace the bulk power grid, it simply expands its capabilities and improves its resiliency and value," states EMerge's Patterson. "And where better to show the future of the Enernet than the in Washington DC, our nation's capital.
Greenbuild, owned and operated by Informa and presented by USGBC, is the nation's largest conference and expo dedicated to green building design and construction. The conference attracts over 20,000 attendees and 600 exhibitors annually from across the green building sector, spanning commercial and residential professionals, architects, building owners and operators, students, advocates and educators. Greenbuild 2015 takes place November 18-19 in Washington, DC.
About EMerge Alliance
EMerge Alliance is a nonprofit, open network of more than 100 organizations reinventing electric power through the development of forward-thinking standards for the highly efficient use of hybrid AC/DC power in a variety of residential and commercial buildings and campuses. EMerge standards focus on delivering DC power directly to digital electronics and power storage systems, simplifying the use of locally produced clean energy and making systems more flexible, resilient and sustainable. The EMerge Alliance Registered Product Program is the industry's only program designed to simplify the use and adoption of DC power products. Learn more at the Greenbuild Expo at Booth 4313 or http://www.EMergeAlliance.org.
Contact:
Beth Murphy
717-612-2863
bmurphy(at)emergealliance(dot)org