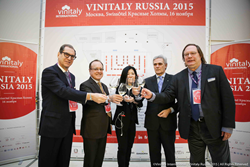 I am sure that in the future, Italian wines, Italian fashion and luxury products will be very popular amongst Russian consumers
Moscow (PRWEB) November 17, 2015
A public of nearly 2.000 members of trade and press gathered yesterday at the Swissôtel Krasnye Holmy in Moscow for the 12th edition of Vinitaly Russia and the opportunity to taste some 800 or more Italian wines represented by single Italian wine producers, consortiums and a number of Russia's most important wine importers.
Although the first seven months of 2015 saw imports decline by 26,8% (57milion euro) in value, (Source: Federal Customs Service Russia, http://tinyurl.com/q2czrco) both Italian institutions and local big market players present at the one-day event concurred in recognizing that Italy still remains today the undisputed leader in Russia amongst wine importing countries. "It's a very positive sign" said Cesare Maria Ragaglini, the Italian Ambassador in Moscow, during Vinitaly Russia's opening ceremony "but to maintain hold on first place is a though task and we need to concentrate all our efforts on doing better. These are difficult times for the Russian market and producers need to look at mid to long-term investments in view of a more rosy future".
"Of course, now we have quite a complicated time in Russia" Andrey Savchenko, import director of AST-international, one of Russia's most prominent importers, explained when asked about the current market situation "and today foreign wines are quite expensive, that's why there has been a reduction in sales which will probably extend to next year as well. But believe me" he goes on to assure "the Russian market is still very interesting for wine producers from all the world and especially from Italy because Italian lifestyle is closer to Russian mentality than others countries. I am sure that in the future, Italian wines, Italian fashion and luxury products will be very popular amongst Russian consumers".
Proof is in the numbers as nearly 2.000 members of trade and press visited the one-day event yesterday in Moscow lining up to take part both in the afternoon Walk Around Tasting and the tight sequence of educational sessions that today represent the cornerstone of Vinitaly International's mission around the world.
"What is really important is to continue organizing events like these and focusing on education as the best means to promote the culture of wine, Italian wine, in Russia and counteract the current difficulties within this promising market" says Niccolò Fontana, the first adviser on trade affairs of the Italian Embassy in Moscow.
According to Alex Pinsky, head of the purchasing department at DP Trade "people who consume really expensive bottles don't change their habits" whilst the crisis is mainly hitting the middle class where people are starting to look for cheaper value-for-money bottles.
The question is, what can producers do to improve the sales situation?
The words "patience" and "support" are on the mouths of many implying the need for producers to sit tight and not give up whilst helping importers in their difficult task.
"We have to pass this difficult economical situation together" says Mr Pinsky "If it's possible, we always ask producers to offer us some discounts, marketing support and maybe even some changes in the payment policies. Every little thing helps. We have to continue paddling to keep it rolling, otherwise if it stops, we risk losing a place on the shelf or on a wine list to a competitor and once that happens, it will take much longer to get it back".
"Let's have patience" concludes Mr Savchenko "we need support from our partners, support means that we need time, we need to wait, we need to survive today, and tomorrow we will be able to show impressive results".
About:
Veronafiere is the leading organizer of trade shows in Italy including Vinitaly (http://www.vinitaly.com), the largest wine and spirits fair in the world. During its 49th edition Vinitaly counted some 4.000 exhibitors on a 100.000 square meter area and 150.000 visitors including more than 2.600 journalists from 46 different countries. The next edition of the fair will take place on 10 - 13 April 2016.
The premier event to Vinitaly, OperaWine (http://www.vinitalyinternational.com) "Finest Italian Wines: 100 Great Producers," will unite international wine professionals on April 9th in the heart of Verona, offering them the unique opportunity to discover and taste the wines of the 100 Best Italian Producers, as selected by Wine Spectator. Since 1998 Vinitaly International travels to several countries such as Russia, China, USA and Hong Kong thanks to its strategic arm abroad, Vinitaly International. In February 2014 Vinitaly International launched an educational project, the Vinitaly International Academy (VIA) with the aim of divulging and broadcasting the excellence and diversity of Italian wine around the globe. VIA has now also created its very first Certification Course with the aim of creating new Ambassadors of Italian Wine in the World.
###