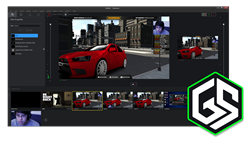 When we launched Gameshow, we pledged to develop the best game broadcasting software available
Nevada City, Calif. (PRWEB) November 17, 2015
Telestream®, a leading provider of live streaming applications and video tools, today announced a free update to Gameshow, a software application designed to help gamecasters create professional quality streams with beautiful graphic templates, dynamic editing, live switching, and green screen technology. Launched just over a month ago at Twitchcon, the new version of Gameshow is available immediately from http://www.gameshow.net where users can also download a free 60-day trial version of the software. Gameshow v.1.1 features new transitions, GIF graphic support, widget enhancements, user-assignable hotkeys for instant Replay, drag-and-drop graphics and an improved game source selector, giving gamecasters more professional options for their stream, and a streamlined user experience.
"When we launched Gameshow, we pledged to develop the best game broadcasting software available and that we would listen to the feedback from our user community, partners and from our very active beta users. It was that feedback along with Gameshow's rapid development process that has enabled us to release Version 1.1 six weeks after our initial announcement," said Barbara DeHart, VP of Desktop Business at Telestream.
Gameshow makes it easy for new broadcasters to create professional shows. With a few clicks, users can pick and customize game templates, insert graphics, add widgets and start streaming to Twitch or YouTube.
Broadcasters also have access to more advanced features such as interactive widgets that pull in and display data such as chat, followers, and donations. With Gameshow's green screen, gamers can put themselves "inside the game". Gameshow provides an unlimited number of shots (i.e. scenes) and layers giving broadcasters limitless creativity for building a stunning show. Show setups can be reused to convey a consistent personality and brand.
New features in version 1.1 include:

New transition options: Added transitions for even more choices in cutting between shots/scenes
GIF support: Allows gamers to use animated images to spice up their broadcast or insert advertising
Hot keys for Replay: User-assignable hotkey buttons for instant Replay. These hotkeys are operational even if Gameshow does not have window focus
Widget enhancements: Users can now choose to display their top donors with the new donor widget. Widgets may also include a scrolling option, allowing users to show a scrolling list of donors. Gameshow users can also create and share their own custom widgets on the Gameshow.net site.
Drag-and-drop graphics: Dragging and dropping videos or images into the main shot area automatically creates a shot without taking focus away from gameplay
Improved game source selector: Users can choose if the source screen is from the PC or from a console directly in the setup window making it easy to switch between inputs
More flexibility on PC: Gameshow no longer requires users to run in "admin" mode
Telestream's affiliate program lets users earn commissions for purchases made as a result of their referrals. More information on the program can be found at: http://www.gameshow.net/affiliates.htm
Gamers interested in learning more about Gameshow and picking up a few tips and tricks from the experts, can tune into "The Gameshow Show", a weekly live show on Twitch.tv/gameshowlive every Thursday at 2:30 Pacific.
Pricing and Availability
Gameshow is available immediately from http://www.gameshow.net as a free update for existing customers. New users can download a 60-day fully featured trial version. After the 60-day trial period, pricing is as follows:
1 Month subscription - $8.99
3 Month subscription - $23.99
12 Month subscription - $90.99
About Gameshow
Gameshow is the only cross-platform, all-in-one live game streaming production software that enables capture, live production, and encoding of live streams for broadcast. With Gameshow, game broadcasters can simplify the process of creating a consistent, branded game stream using graphical overlays and interactive widgets, which help them build their community, build their brand and make their streams worth watching. Gameshow is ideal for streaming or recording live Internet gameplay; archiving game events and matches; talk show formats; streaming live educational, training, game strategy discussions and more. For more information visit the Gameshow website.
####
Trademarked company and product names are the property of their respective companies.
About Telestream
Telestream provides world-class live and on-demand digital video tools and workflow solutions that allow consumers and businesses to transform video on the desktop and across the enterprise. Many of the world's most demanding media and entertainment companies as well as a growing number of users in a broad range of business environments, rely on Telestream products to streamline operations, reach broader audiences and generate more revenue from their media. Telestream products span the entire digital media lifecycle, including video capture and ingest; live and on-demand encoding and transcoding; captioning; playback and inspection, delivery, and live streaming; as well as automation and orchestration of the entire workflow. Telestream corporate headquarters are located in Nevada City, California. The company is privately held. For more information, visit http://www.telestream.net.