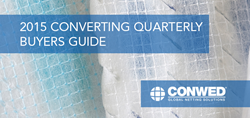 Minneapolis, MN (PRWEB) November 17, 2015
Conwed, the leading plastic netting manufacturer in the world, is listed in the most recent issue of the Converting Quarterly Buyers Guide. Converting Quarterly is the official technical magazine of the Association of International Metallizers Coaters and Laminators (AIMCAL) and it covers web-processing technologies of solution, extrusion and vacuum coating; laminating; film manufacturing; flexographic and gravure printing; slitting, sheeting and other finishing methods. Published four times a year in print and digital formats, Converting Quarterly is a key medium to connect with the converting industry.
Conwed is actively involved within the converting industry because netting is used to reinforce, laminate and stretch a wide range of substrates to create diverse composites for hundreds of industrial and consumer products. "Converting Quarterly allows us to connect with the technical teams that design, manufacture and convert composites in which our netting can add distinctive value. We pride ourselves on customizing our netting to every project and collaborating with manufacturers, coaters, laminators and converters is our sweet spot", said Ivan Soltero, Strategic Marketing Manager at Conwed.
One of the most advanced netting technologies developed by Conwed is co-extrusion. Co-extrusion is a multi-layer extruded netting than can be subsequently oriented where different polymers can form different layers on the same netting configuration. It is a square netting construction and Conwed has the ability to build netting with A/B, A/B/A, and A/B/C layer combinations. Co-extrusion netting acts as the bonding, reinforcing agent in diverse composites. By using co-extrusion netting with adhesive layers, manufacturers and converters may eliminate adhesive steps in their manufacturing and converting processes for specific product applications.
"The versatility of our plastic netting allows OEMs, manufacturers and converters to create composites through extrusion coating, thermal, wet and dry lamination, ultrasonic welding and diverse nonwoven processes. We entice our prospects and customers to challenge our engineering team before assuming it can't be done", said Soltero.
Converting quarterly publications can be found at http://www.convertingquarterly.com and for additional information about how Conwed netting can be incorporated with other substrates visit our section Plastic Netting 101.
About CONWED
Conwed is the leading plastic netting manufacturer in the world. Conwed manufactures extruded, oriented and knitted netting with unique customization capabilities. Headquartered in Minneapolis, Minnesota, Conwed has five manufacturing locations on two continents and a global distribution network.