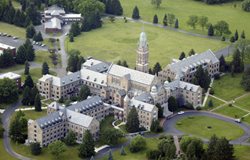 Columbus, Ohio (PRWEB) November 18, 2015
The WiFi Solutions Group headquartered in Columbus, Ohio, signs deal with the Pontifical College Josephinum in Columbus, Ohio to provide WiFi Campus Wide.
The Pontifical College Josephinum presented challenges in that this campus includes buildings that were built in the early 1900's and are constructed with rock, lathe and plaster and concrete all of which are materials that are not Radio Frequency (RF) friendly.
The WiFi Solutions Group specializes in Wireless (WiFi/RF) platforms representing over ten (10) world class brands. This affords the WiFi Solutions team the ability to evaluate multiple potential solutions from their arsenal of products to meet the stringent challenges presented by Josephinum's building materials and to meet the sheer size of the Campus.
The Pontifical College Josephinum is a Roman Catholic seminary whose mission is to prepare men for the ordained priesthood through human, spiritual, intellectual, and pastoral formation. The seminary consists of two academic divisions: The College of Liberal Arts and The School of Theology, which includes a Pre-Theology Program.
The Josephinum is a pontifical institution immediately subject to the Holy See, through the apostolic Nuncio, and governed by the Board of Trustees. Its programs follow the norms established by the Code of Canon Law, the Congregation for Catholic Education, and the United States Conference of Catholic Bishops.
Continuing the vision of its founder, Msgr. Joseph Jessing, the Josephinum seeks to prepare priests for the new evangelization and to serve the pastoral needs of the Church. In fidelity to this vision, the Josephinum provides resources with the wider Church by promoting vocations and by offering continuing education to clergy and laity.
For more info contact Joseph Nicholas, WiFi Solutions Group, at 1-855-723-WIFI (9434).