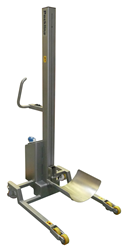 The Roll Handling Equipment with Curved Rotating Tray Attachment is the ideal solution to increase efficiency and improve health and safety conditions.
(PRWEB) December 07, 2015
New to Packline Materials Handling and Ultrasource LLC is the curved rotating tray attachment for handling rolls of film or foil; designed for food, drinks and pharmaceutical industries. This roll handling equipment incorporates all the features of a lifter with the standard rotating tray attachment with an additional safety feature in that the roll of film or foil can be held within the tray attachment without the possibility of rolling out if manoeuvred quickly.
For efficiency, and health and safety purposes, it is necessary that the roll of foil is held within the tray attachment at all times ensuring it is not possible for the roll to become dislodged from the lifter attachment. The formed stainless steel rolled section of the tray attachment achieves this by ensuring that the roll cannot become dislodged at any time as it will simply come to rest within the curved attachment.
The tray attachment itself can rotate by 360 degrees allowing the roll to be loaded in any orientation. The non-stick surface also allows the reel to be unloaded with ease.
Specifications:
Safe Working Load (SWL): 75kg (165.35lbs)
Reel Diameter: 350mm (13.78 inches)
Reel Length: 500mm (19.69 inches)
Attachment Mass: 9.5kg (20.94lbs)
Ideally suited for clean room environments, the stainless steel range of roll and drum handling equipment is suitable for use in the following industries:-

Food
Drinks and Beverages
Dairy
Pharmaceutical
Medical
Chemical
FMCG
The purpose-designed compact framework, positioning of handlebars and addition of an optional remote control device provide improved manoeuvrability and ease of use for the operator.
The small footprint makes this roll handling equipment highly manoeuvrable and a natural choice for today's narrow production lines and demanding lifting requirements.
Packline and Ultrtasource LLC are able to provide bespoke lifting and handling solutions for materials handling issues involving rolls and drums; by creating new concepts or tailoring existing lifting and handling equipment to meet specific requirements.
Packline Materials Handling has been designing and manufacturing lifting and handling equipment since 1993. The range of stainless steel materials handling equipment has established Packline as a leading supplier of quality roll and drum handling equipment for the food, drinks, dairy, pharmaceutical and medical processing industries worldwide.
For further information on the roll handling equipment with curved rotating tray attachment, or the full range of lifting and handling equipment, please contact Packline Materials Handling, or contact Ultrasource LLC in the USA for more information on the 'EZ Lift'.
Packline Ltd
Unit 28
Newtown Business Park
Ringwood Road
Poole, Dorset
BH12 3LL, UK
USA Distributor:
Ultrasource USA LLC
1414 West 29th Street
Kansas City, MO 64108-3604
(O): 816.360.2034 | Ext 2034
http://www.ultrasourceusa.com/
For a full list of worldwide distributors please visit Packline's website.