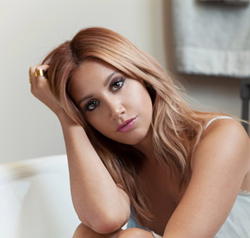 "Partnering with BH Cosmetics is a perfect opportunity to bring my audience beautiful makeup products at affordable prices", adds Tisdale.
Los Angeles, CA (PRWEB) November 17, 2015
The 'Illuminate by Ashley Tisdale' line is a creative collaboration between global beauty brand BH Cosmetics and multitalented star Ashley Tisdale. Launching in spring 2016, it celebrates her love of beachy, boho-chic California style with a touch of glam.
"Beauty has always been one of my passions," says Tisdale, who was thrilled to add cosmetics executive to her impossibly full résumé. It already includes award-winning actress, singer, songwriter, producer, designer, social media star and since last year, lifestyle blogger for her website, thehautemess.com.
The posh yet affordable 'Illuminate by Ashley Tisdale' line features BH Cosmetics' signature pigment-rich formulas in makeup designed to complement multiple skin tones and impart a gorgeous, sun-kissed glow. It includes two day-to-night eyeshadow & blush palettes, six enhancing lip-glosses, and six dual-purpose cheek-and-lip tints.
"Partnering with BH Cosmetics is a perfect opportunity to bring my audience beautiful makeup products at affordable prices", adds Tisdale, whose fascination with cosmetics began when she was a young actress watching makeup artists apply makeup for television and events.
"Ashley has been hands-on every step of the way, choosing colors, textures, and packaging that reflect her laid-back yet sophisticated style," says Director of Product Development Reed Cromwell IV. "Working with her has been a breeze, because we share the same philosophy: A belief in high- quality makeup at affordable prices, with the goal of creating luxurious cosmetics that let customers express their individuality.
About BH Cosmetics
BH Cosmetics creates high-quality, affordable cosmetics, makeup brushes and accessories. Known for delivering high-quality cosmetics at affordable price points, the company's product line has garnered extensive praise on YouTube and other social media networks. BH Cosmetics was previously recognized on Inc. Magazine's Inc. 500 list as one of the country's fastest-growing private companies. For more information, visit http://www.bhcosmetics.com.
About Ashley Tisdale
Ashley Tisdale is an actress, philanthropist, performer, and producer, with an extensive body of work in television, film, musicals, recording and production. Having been discovered in her hometown of Monmouth County, New Jersey at the age of three, Ashley quickly garnered attention and became one of the breakout stars of the Emmy Award-winning Disney Channel worldwide phenomenon "High School Musical," as well as a number of other successful television shows and feature films. Most recently, Ashley starred in the TBS comedy series "Clipped" and will soon be seen on the big screen alongside Jason Biggs in the independent comedy "Drive She Said." Ashley is also a successful recording artist, with her solo album, "Headstrong," having debuted in February 2007 and entered the Billboard Top 200 Chart at #5. Having founded Blondie Girl Productions, the production company behind ABC Family's "Young & Hungry," Ashley plays a pivotal role both in front of and behind the camera.