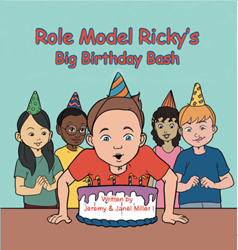 Our main goal was to create a go-to book to help teach children how to be good role models and provide another tool in the parenting toolbox to encourage good behavior
WINONA, Minn. (PRWEB) November 17, 2015
As full-time working parents to three young boys, Jeremy and Janel Miller fully understand the responsibility and importance of instilling values and manners into children. Inspired by their personal experience as parents, they decided to co-author "Role Model Ricky's Big Birthday Bash."
Throughout "Role Model Ricky's Big Birthday Bash," children will follow the story of Ricky who teaches important life lessons including: sharing, being respectful, possessing good values, and making good choices.
"Our main goal was to create a go-to book to help teach children how to be good role models and provide another tool in the parenting toolbox to encourage good behavior," Janel Miller said.
As hard-working parents, the Millers hope that by teaching good values through their book, many children will follow by example.
"This book gets straight to the point with lifelike characters and situations. Ricky is just like any other child who wants to have fun, so kids can easily relate to him and best of all, he is a character that will bring joy to parents and caregivers," Jeremy Miller said.
By reading "Role Model Ricky's Big Birthday Bash," children will be enthusiastic about making good choices while both parents and caregivers can be proud of the healthy platform for positive growth and conversation.
For more information, visit http://www.rolemodelricky.com
"Role Model Ricky's Big Birthday Bash"
By: Jeremy and Janel Miller
ISBN: 978-1-5049-32296
Available in softcover, hardcover, e-book
Available on Amazon, Barnes & Noble and AuthorHouse
About the Author
Jeremy and Janel Miller, from Winona, Minn., are full-time working parents of three young boys. Jeremy is a fourth generation business owner, entrepreneur, and a Minnesota State Senator. Janel is the occupational health department manager at Winona Health, a local hospital. While juggling careers and family, the Millers decided to co-author a children's book "Role Model Ricky's Big Birthday Bash," as an encouraging tool for children to make positive decisions and aspire to be good role models.
# # #
**FOR IMMEDIATE RELEASE**
For review copies or interview requests, contact:
Katie Wenclewicz
317.602.7137
kwenclewicz(at)bohlsengroup(dot)com