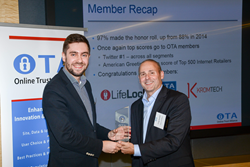 We are pleased to welcome Kromtech as a new member of the OTA and as an active contributor to our working groups and Taskforce
(PRWEB) November 25, 2015
Kromtech Alliance Corp., an international IT investment and development company and parent company of MacKeeper, a popular security and optimization service for Macs, today announced its acceptance as a Gold - Advisory Council member of the Online Trust Alliance (OTA). In accordance with this distinction, Kromtech will actively participate in OTA working committees designed to mitigate the increased threat of malicious advertising to consumers and help defend the integrity of interactive internet advertising overall.
"We are honored that Kromtech, as owner of the well-recognized MacKeeper brand, joins a wide array of renowned organizations dedicated to building and promoting online trust among consumers and are eager to help drive OTA awareness and education," said Alexander Kernishniuk, CEO of Kromtech. "Kromtech's approval by the OTA board members to join the Advisory Council underscores our continued commitment to being a trustworthy and reliable source for online communities in an increasingly dangerous virtual world."
Joining the OTA as a Gold Sponsor comes in conjunction with a new MacKeeper initiative designed to decrease the use of online "Scare Ads," which are intended to scare or dishonestly coerce users into downloading software. MacKeeper's research into online scare ads show there is still a significant part of the professional community who abuse common compliance rules and deliver these unethical ads. In response, the brand is encouraging the online community to report scare ads to scare@mackeeper.com and will reward those who identify and share legitimate scare ads, including those associated with MacKeeper.
"We are pleased to welcome Kromtech as a new member of the OTA and as an active contributor to our working groups and Taskforce," said Craig Spiezle, Executive Director, Founder and CEO of the Online Trust Alliance. "Kromtech's deep understanding of quality internet practices will provide invaluable insights and contributions to help protect consumers and businesses from the onslaught of cybercrime."
As a member of the OTA, Kromtech will participate in multiple committees, some of which include the Advertising & Content Integrity Working Group, Emerging Threats (Botnet & DDos) Multi-Stakeholder Working Group, Email Security & Integrity Committee, and multiple others. Additionally, Kromtech will be donating space ads on its web properties to the OTA to help increase awareness and drive the community forward.
About Kromtech Corp. Alliance
Founded in 2013, Kromtech Alliance Corp. is an international IT investment and development company creating highly-rated software services for Mac to simplify digital lives of people all around the world. The company's flagship service, MacKeeper, comes equipped with a unique "human assistance" feature to help non-tech savvy customers solve even the most complex performance problems with just a few clicks. More information about Kromtech and MacKeeper can be found at http://www.kromtech.com and http://www.mackeeper.com.
About OTA: 
The Online Trust Alliance (OTA) is a non-profit with the mission to enhance online trust and user empowerment while promoting innovation and the vitality of the Internet. Its goal is to help educate businesses, policy makers and stakeholders while developing and advancing best practices and tools to enhance the protection of users' security, privacy and identity. OTA supports collaborative public-private partnerships, benchmark reporting, and meaningful self-regulation and data stewardship. Its members and supporters include leaders spanning the public policy, technology, ecommerce, social networking, mobile, email and interactive marketing, financial, service provider, government agency and industry organization sectors. Additional information can be found at https://otalliance.org/.