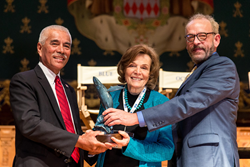 Movements are born from the merging of arts and sciences. It is through film and art that we feel the human condition associated with the science of climate change and other ocean issues like overfishing. That connection is why we do our festival.
PRINCIPALITY OF MONACO (PRWEB) November 19, 2015
The BLUE Ocean Film Festival & Ocean Conservation Summit (BLUE) took place in Monaco with a full schedule of events and film screenings that drew a wide range of celebrities, explorers, filmmakers, scientists, diplomats, and conservation leaders interested in the power of the the visual image to convey the science of ocean health. Taking place just weeks before the COP21, the global climate change conference of world leaders, BLUE focused on climate change and the need to take meaningful action now to ensure the health of our oceans. With the recent announcement by Sea World to end the live orca shows at the California location, the power of film to incite widespread action is evident.
Over the course of four days, this festival has several layers of programming that all encourage real, thought provoking conversations to take place by viewing a wide range of films and documentaries from filmmakers all over the world, culminating in an award ceremony at the end of the festival called the BLUE Carpet Awards hosted by actress Kelly Rutherford and Jim Toomey of Sherman's Lagoon.
The filmmakers are on hand to present and discuss their films as well as a variety of diverse quality speakers, like Dr. Sylvia Earle, Jon Bowermaster, Celine Cousteau, Carl Lundin, Paul Nicklen, and Dr. Greg Stone, who share their knowledge with the BLUE audience in panel discussions and lunch presentations. The annual event is a meeting place where knowledge comes together for the implementation of practical solutions that contribute to the preservation of marine environment.
In a partnership between BLUE and the Prince Albert II of Monaco Foundation and the Museum Oceanographic of Monaco, the BLUE Ocean Film Festival & Conservation Summit takes place in the Principality of Monaco every other year. This first edition, was a huge success. According to Debbie Kinder, founder and CEO of BLUE, "the significance of BLUE being in Monaco goes far beyond the enchanting surroundings. The Museum represents the merging of Arts & Sciences, making this magnificent landmark a fitting venue for BLUE's own convergence of arts & sciences." The Oceanographic Museum of Monaco lends itself well to the festival and its walls were dressed with several photographic exhibitions during BLUE which included: Prince Hussain Aga Khan "Diving with Wildlife", Tom Peschak "Wild Seas, Secret Shores", Andy Parant "Trap White", and Paul Nicklen and Cristina Mittermeier of Sea Legacy "The Thin Blue Line".
Awards and prizes BLUE 2015
The BLUE Legacy Award
The Legacy Award is given to those whose life is made of a remarkable commitment to
ocean conservation. During the evening of Saturday, November 7, HSH Prince Albert II
Monaco received the Debbie Kinder Legacy Award in 2015 in recognition of his dedication and leadership in global ocean conservation and good environmental management. As HSH Prince Albert II of Monaco said in his acceptance speech, "More than ever before, we need the power of the cinema, with its lessons of courage and its ability to move us. More than ever, we need to unite the peoples of the world in a common goal."
The Sylvia Earle Award
The Sylvia Earle Award was presented by Dr. Sylvia Earle of Mission Blue and ocean explorer since 1950 to President Tong of Kirabati. President Tong and HSH Prince Albert II of Monaco share a deep commitment to protecting our oceans and addressing the threat of climate change, particularly with regard to Pacific Island nations, which are feeling the impact of rising sea levels and erratic weather patterns. As Sylvia Earle said in her award presentation to President Tong, "The most important thing we can extract from our oceans is our existence."
President Tong will be presenting at the COP21 in Paris bringing into focus the results of climate change on people in the Pacific and beyond. He stated at BLUE, "much of the information on climate change has been about science and the the environment, but not on the affects to the human condition."
Best Feature Film and Best in Show
Racing Extinction, by the Academy Award winning director of "The Cove", won both Best Feature Film and Best in Show at BLUE. The global screening of this film will take place in over 200 countries on the Discovery Channel December 2, 2015.
In addition to these distinctions, the BLUE Ocean Film Festival was also honored to award:
Best Broadcast Program: The Dark Side of the Ocean
Produced by Kayta Shirokow
Directed by Rick Rosenthal
Best Emerging Filmmaker Film: The Edge
Produced by Carlos Toro
Best Feature Film: Racing Extinction
Produced & Directed by Louie Psihoyos
Executive Producer Dieter Paulmann
Best Short Film (under 15 min): One Voice
Produced by Chris Clifone
Best Short Film (15-30 min): Fragile Legacy
Produced by David Brown & Denis Jensen
Best Student Film: The Lionfish Plague of the Atlantic, Caribbean and Gulf
Produced by Preston Buchanon
Best of Festival: Racing Extinction
Produced by Louie Psihoyos
Executive Producer Dieter Paulmann
See all the BLUE 2015: Film Competition Finalists & Honorable Mentions Video Clips
See the Racing Extinction Video Trailer
BLUE partners
Prince Albert II of Monaco Foundation
In June 2006, HSH Prince Albert II of Monaco decided to establish his Foundation to meet the concern threats to the environment of our planet. The Foundation Prince Albert II of Monaco works to protect the environment and promoting sustainable development. The Foundation supports projects in three main geographical regions: the Mediterranean Basin, the Polar Regions and the least developed countries. The actions of the Foundation focuses on three main areas: climate change and renewable energy, biodiversity, and integrated and sustainable management of water resources and the fight against desertification.
The Oceanographic Museum of Monaco
Built against the mythical rock of Monaco, the Oceanographic Museum on eve oceans for more than a century. Created by Prince Albert I, great-grandfather of HSH Prince Albert II of Monaco, it was designed from the origin as a palace dedicated to the art and to Science.
Inaugurated in 1910, the Temple of the Sea offers today to discover more than 6000 faithfully recreated specimens in their natural environment. Aquariums collections historical, through the Shark Lagoon and Turtle Island, the Museum offers visitors the unique opportunity to get to know, love and protect the oceans.
More information about: http://www.oceano.org
Monaco - Tourism and Convention Authority
Famous tourist destination and resort, the country is home to one of the largest
of units concentrations of marine research. The Principality is also a champion
terms of sustainable development with environmental protection 20% of its
territory and no less than two marine protected areas.
http://www.visitmonaco.com
Contacts
BLUE Ocean Film Festival Headquarters, St. Petersburg, Florida
info@blueoceanfilmfestival.org Tel: +1 727 388 6682 (USA)
Press Relations: Sarah Lesch, Playbook Public Relations
sarah(at)playbookpublicrelations(dot)com
Tel: 813-727-4077
BLUE Ocean Film Festival in Monaco:
General Organization
Casmira Verkade
cverkade(at)cosmopolitan-events(dot)com
Tel: 00 377 93 50 76 40 (Monaco)
Media Relations France / Europe
Claire Boulé
claire.boule(at)gmail(dot)com
Tel: 00 33 6 50 18 90 18 (France)
Prince Albert II of Monaco Foundation
Isabelle Peters
ipeters(at)fpa2(dot)mc
Oceanographic Museum of Monaco
Laetitia Pierrat
l.pierrat(at)oceano(dot)org
Tourism Department and Congress
Press and Communication Service
Jean-François Gourdon
jfgourdon(at)gouv(dot)mc
Tel: 00 377 92 16 60 47
Cell Responsible Tourism
BLUE Social Media Links
https://www.facebook.com/BlueOceanFilm/
https://twitter.com/BlueOceanFilm
https://plus.google.com/u/0/101200433659321730655/about
https://www.youtube.com/user/BLUEfilmfest
Full festival images available on-line or for press kit link or high res photos, please request through Claire Boule or Sarah Lesch.