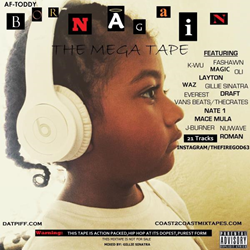 Fresno, CA (PRWEB) November 17, 2015
Today Coast 2 Coast Mixtapes announces the release of "Born Again (The Mega Tape)", the latest mixtape by Fresno recording artist AF-Toddy. The mixtape is currently available for streaming and download at the Coast 2 Coast Mixtapes website.
The mixtape features 21 tracks, including those below:
1. La Familia
2. Waitin 4 You (Prod. Everest)
3 Around The World (Prod. Magic Beats)
4. Clap 4 Ya (Gillie Sinatra)
5. Let Me Be (J-Burna)
6. Dreaming (K-Wu)(Prod. Layton)
7. AF-Toddy X Fashawn
8. All The Way
9. Club Toddy (Prod. Mace Mula)
10. 3 Amigos (K-Wu & Layton)(Prod. Layton)
11. F.C. Life (Oli)(Prod. Roman)
12. F.B.T.T. (Nate1)(Prod. Layton)
13. Everyday (Prod. Nuwave)
14. U-Tite (Layton)
15. Dem Boyz (Prod. Draft)
16. Rhyme Monster (Prod. Layton)
17. Slo-Motion (Prod. Waz)
18. Smashin (Prod. Magic Beats)
19. War (Prod. Vans/The Crates)
20. Love 4 Me (Prod. Nuwave)
21. Outro (Prod. Magic Beats)
AF-Toddy is currently seeking press opportunities, interviews, features, and more. He can be reached through his Facebook fan page.
About AF-Toddy: AF-Toddy grew up in Fresno California. Music has always played a big part of his life since he was a kid. He remembers his father & friends blasting Whodini, Curtis Blow, Grandmaster Flash, Run-DMC, NWA, E-40, & Spice1 just to name a few and after that he was hooked on Hip-Hop. His father would have all kinds of music laying around and Toddy being a little kid would listen to the tapes and be amazed of the things they were talking about. Even as a young kid he could relate to most of it. He would tag along with his father and family members, who were tied up in the street life. He witnessed it through his own two eyes and through the music.
As a young kid Toddy always wanted to be like Michael Jordan. He loved playing sports and aspired to become a star athlete. He started writing his own lyrics down in 1998 when he was a freshman at Fresno High school. Toddy started on his freshman basketball team for half of the season, but due to bad grades he was kicked off the team. That's when music took the front seat and basketball became a hobby. Toddy found solace in music and began writing rhymes to escape the streets and every thing that came with it. Music kept him out of trouble and kept him dreaming and fighting for something. He would witness firsthand his people being lost to the streets. Family members being murdered, going to numerous of funerals, family and friends going to prison, school friends strung out on drugs, some deadbeat fathers, and the homeless. This is where he gets most of his motivation. Toddy has been rhyming for 17 years and now he has opened up for Snoop Dogg at the Up and Smoke Tour. He's put out seven mixtapes and one album that he's put out independently. When it comes to music he is an incredibly hard worker. Writing music come easy to him; Its in his blood, its his religion. After rapping for so long, but through all the ups and the downs, he continues to pursue his dream. For more music by AF-Toddy visit his Soundcloud page.
About Coast 2 Coast Mixtapes:
Coast 2 Coast Mixtapes are the most widely distributed mixtapes in the world, with over 100 million downloads/plays generated by over 300 volumes officially hosted by major artists. Coast 2 Coast has a solid reach in the new music industry with a digital magazine, DJ coalition, industry tips blog, yearly convention, and more. Coast 2 Coast Mixtapes represents a unique opportunity for artists of all urban genres, from major to indie. For more information, visit http://www.coast2coastmixtapes.com.