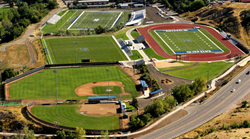 "We were fortunate to be able to provide some great amenities offerings to the fan experience." -- WC&A Partner and Director of Design, Steve Young.
(PRWEB) November 19, 2015
Colorado School of Mines in Golden, Colorado, has long held the distinction of playing in one of America's most historic football stadiums. Now, they'll enjoy playing in one of America's best. Des Hague, Co-founder of Aegis Enterprises and Partner of WC&A and Bill Caruso, Founding Partner of WC&A, are pleased to announce the completion of WC&A's hospitality design work at the Colorado School of Mines historic Clear Creek Athletics Complex recently and in time for the 2015 season opener on September 5.
The 2015 season marks the debut of the Marv Kay Stadium at Campbell Field, a state-of-the-art home for Oredigger football that completely rebuilt the West's oldest football stadium. Named in honor of long-time coach and administrator Marv Kay, who has spent nearly 60 years in Golden, the stadium and its support facilities put Mines Athletics at the forefront of NCAA Division II.
Home to Mines football since 1893, the site is the oldest football field west of the Mississippi River and the oldest in NCAA Division II. The new stadium is named in honor of longtime coach and athletic director Marv Kay to recognize his decades of dedication to Mines athletics. Three NFL teams - the Denver Broncos, the Dallas Cowboys, and the Baltimore Colts - have held training camps at the field, and 15 championship Mines teams have called it home, spanning 122 years from the 1893 Colorado Football Association championship to the 2014 Rocky Mountain Athletic Conference title.
The $26.3 million Clear Creek Athletics Complex project - which includes Marv Kay Stadium, the Stermole Soccer Stadium, Stermole Track & Field Complex and Crouch Field Events Center, and improvements in and around baseball's Darden Field and the CSM Softball Field was funded nearly entirely by private donations.
The WC&A hospitality planning and design team was selected to work with Heery Design out of Atlanta Georgia on the new Colorado School of Mines Stadium and Athletic Center project. The project took almost 2 years to complete and consisted of new concession stands on the main concourse, premium suite catering pantry, strength and conditions nutrition station and a press support pantry from a food service standpoint.
"The new stadium is certainly an icon on the Colorado School of Mines campus and we were fortunate to be able to provide some great amenities offerings to the fan experience," stated WC&A Partner and Director of Design, Steve Young.
"We are thrilled that after 2 years of planning we finally have completed a world-class hospitality program that celebrates and brings to life an authentic Colorado program in this iconic sports venue," said Hague.
About WC&A, Inc.:
William Caruso & Associates, Inc. specializes in commercial food/beverage and laundry facilities planning and design services. Headquartered in Denver with offices in Athens, Berlin, Duesseldorf, Philadelphia, San Francisco and Scottsdale, WC&A has completed over 12,000 projects in 35 countries, an unmatched record in a very specialized industry. WC&A's diverse project portfolio includes completed food and laundry service facilities for hotels, universities, schools, correctional systems, hospitals, corporate headquarters, convention centers, stadiums, arenas, and others.
For more information about WC&A: http://www.wcarusoassoc.com
Contact: Renate Siekmann
William Caruso & Associates, Inc.
8055 East Tufts Avenue, Suite 1320, Denver, CO 80237
Phone: 303.649.1600 x211
Email: rsiekmann(at)wcarusoassoc(dot)com
About Des Hague
A renowned executive with over twenty-five years of leading global public and private companies, Des Hague has established himself as an innovative thinker in the international business world. His forward-thinking approach pushes companies toward sustainable growth, granting them a position as resilient competitors within their respective industries. Hague most recently was the CEO and President of Centerplate, Inc, the largest event hospitality firm in North America. source: http://deshague.com . Hague also serves on the boards of DVETelepresence, PING HD, WC&A, Inc, and the Stamford Youth Foundation along with advising on several start-up ventures.
Along with his professional projects, Des Hague contributes significant amounts of time and energy to non-profit charitable work. Hague has helped raise more than $100 million over the past few years for many non-profits, including the Stamford Youth Foundation, a local organization offering multiple after-school programs for young people, and The Journey Home, a Baltimore-based Foundation fighting homelessness. Hague views AEGIS, LLC. as a perfect blending of business and philanthropic activities.
For more about Des Hague, visit: http://deshague.com, http://deshaguereviews.com
Des Hague - LinkedIn : https://www.linkedin.com/in/deshague
Contact:
DesHague.com
EMail: deshague(at)aegisenterprisesllc(dot)com