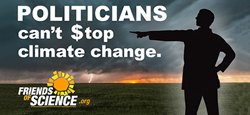 From 1985 to 2011 Canada's industrial emissions of carbon monoxide were down 26%, carbon particulate down 44%, sulfur dioxide down 69% while total economic output went up by 89%
Calgary, Alberta, Canada (PRWEB) November 17, 2015
Despite the horrific Paris attacks of Nov. 13, 2015, the COP-21 climate talks will go on as reported Nov. 16, 2015 in Scientific American and Friends of Science Society has launched a new bi-lingual billboard campaign in Ottawa telling the public that "Politicians Can't $top Climate Change." Friends of Science have just released the French language version of their official climate change report "Clear the Air in Paris."
As with the English version, the French report asks Canadian politicians to stand up for Canada's excellent record in reducing real air pollutants while improving the economy.
"From 1985 to 2011 Canada's industrial emissions of carbon monoxide were down 26%, carbon particulate down 44%, sulfur dioxide down 69% while total economic output went up by 89%," says Michelle Stirling, Communications Manager for Friends of Science Society. "Canada should demand other countries meet these standards."
Friends of Science says there has been no significant global warming in over 18 years despite a rise in carbon dioxide, as discussed in this Forbes op-ed of Feb. 24, 2014, meaning natural factors are more influential on climate than thought. Further, climate policies have resulted in numerous detrimental, unintended consequences, outlined in the report.
Despite rhetoric to the contrary, Friends of Science Society says CO2 is a natural, benign gas essential for life and is making the planet greener. Likewise, fossil fuels have enabled billions to escape poverty. Developing nations are thoughtfully putting their citizens' welfare ahead of misguided "action on climate change" when they promote the use of affordable fossil fuel energy. Therefore any CO2/GHG reductions by Canada would be purely sacrificial and damaging to Canada's economy, in the face of massive growth of fossil fuel use and GHG output in developing countries.
ABOUT
Friends of Science has spent a decade reviewing a broad spectrum of literature on climate change and have concluded the sun is the main driver of climate change, not carbon dioxide (CO2). Friends of Science is made up of a growing group of earth, atmospheric and solar scientists, engineers, and citizens.
P.O. Box 23167, Mission P.O.
Calgary, Alberta
Canada T2S 3B1
Toll-free Telephone: 1-888-789-9597
Web: friendsofscience.org
E-mail: contact(at)friendsofscience(dot)org