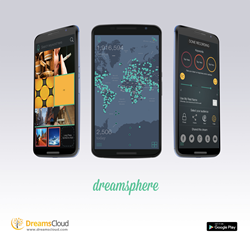 With the launch of DreamSphere for Android, we wanted to tap into the endlessly fascinating world of dreams by creating an app that will provide users with a valuable on-the-go companion for daily wellness and self-reflection.
Miami, FL (PRWEB) December 10, 2015
DreamsCloud, the world's leading online dream resource, has launched the Android version of their popular dream logging app, DreamSphere, available today for free in the Google Play Store. DreamSphere is a first-of-its-kind mobile app that offers a 360-degree approach to dreaming – including the ability to keep a dream journal, gradual Smart Alarm, real-time trending global dream map and social sharing options. The DreamSphere app, previously available on iOS, leverages mobile technology to better connect users in a more seamless and social way.
Using the new DreamSphere app developed specifically for the Android platform, users can voice record or manually input their dreams, discover similar dreams from around the globe, understand the meaning of their dreams using DreamsCloud's massive online Dream Dictionary and improve personal dream interpretation, and interact with DreamsCloud's database of more than 1.9 million dreams.
Built on DreamsCloud's global database of dreams, DreamSphere's stand-out feature is its Global Dreams Map, which appears on the home screen. Updated in real-time, users can use the map to search for dreams according to location, date, popularity, what's trending, from connected friends or by keyword – opening a portal to dreams shared from every country.
"Understanding our dreams and what they are trying to tell us can have such a significant impact on our overall health and mental well-being," said Jean-Marc Emden, CEO and co-founder of DreamsCloud. "With the launch of DreamSphere for Android, we wanted to tap into the endlessly fascinating world of dreams by creating an app that will provide users with a valuable on-the-go companion for daily wellness and self-reflection. By empowering people to log, discuss and discover their dreams, DreamSphere can help people achieve a better understanding of themselves."
Major DreamSphere app features include:

Dream Journal & Recording: Users can quickly and easily transcribe their dreams either by typing text or by a voice recording that can be transcribed in 40 languages. From within the app, users can also rate the emotional intensity of their dream, describe their dream using defined keywords, e.g. vacation, family and airplane, and also search for specific dreams symbols and their meanings. Using a built-in calendar, users can track their dream intensity and emotion over time – revealing overarching themes and the overall state of their subconscious.
Interactive Global Dreams Map: Connect through similar dreams with the Global Dreams Map, allowing users to find similar dreams within their neighborhood or across the globe, learn how popular or infrequent their dream content is, read others' publicly shared dreams, and exchange feedback and comments.
DreamSphere Insights: Users can gain insights regarding their state of mind as well as dream patterns in order to further understand their subconscious mind, emotions and daily well-being. With DreamSphere for Android, users have access to valuable insights that offer helpful analysis for each dream. It only takes 50 words of detail for the app to gain insights into ongoing dream patterns.
DreamSphere Smart Alarm: Users can set an alarm that is conducive to improving dream recall by offering a gradual wake up feature, allowing them to remain longer in a state between still dreaming and waking up. Users can select from a pleasant pre-recorded voice or pre-loaded music tone to awaken to.
Privacy Control/Sharing: Users have a variety of secure methods for logging and sharing their dreams depending upon individual choice and preference. Users can choose to log their dreams anonymously or under a personal user ID of their choosing. From there, users can decide on a dream-by-dream basis whether to keep their dreams private or to share them within the DreamsCloud community or via social networks such as Facebook, Twitter, Google+ and Tumblr for discussion and reflection. Users also enjoy 128-bit encryption throughout their DreamSphere experience and access to dual-identity protocol, which ensures that their information is always safe and secure.
The DreamSphere app is available today for FREE download in the Google Play Store at https://play.google.com/store/apps/details?id=dreamscloud.ds. To learn more about DreamsCloud and DreamSphere, please visit http://www.dreamscloud.com.
About DreamsCloud
DreamsCloud, a Miami, FL, based company, is a social platform and resource for people of all ages with an interest in exploring dreams and the unconscious mind. Through its website, mobile apps for all smart devices, and strong presence in social media, DreamsCloud delivers entertaining and informative content, tools and resources, and a community for within which users can interact and explore dream meanings The website and apps provide its members with tools to log their dreams, create dream journals, save them privately or share them publicly or anonymously, and receive personalized reflections on their dreams. To learn more about DreamsCloud, please visit http://www.dreamscloud.com or follow us on Twitter at @Dreams_Cloud