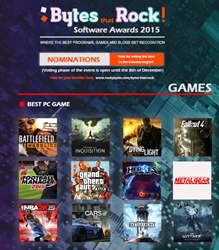 Time for voting the best in the industry begins
Barcelona, Spain (PRWEB) November 18, 2015
Bytes That Rock 2015, a software award event created by the software review website Rocky Bytes, unveils the nominated programs, games and blogs across the 11 categories in which the awards will be given. The aim of this event is to award and bring recognition to those who deserve it most within the software industry. Fallout 4, Star Wars Battlefront, Ubuntu, Kerbal Space program, Bluestacks, Spotify, Windows 10, Avast and Prezi are just some of the nominees this year.
From today until the 8th of December the voting phase of the event is open, now the public has the chance to vote along with the jury who will evaluate the finalists. The Public's votes counting for 30% of the total and the judges 70%.
Bytes That Rocks will give away 5 Office 2016 licenses and 5 steam keys for GTA V on a raffle to the public who vote in one or more categories. Each member of the public can vote only once per category but the more categories people vote in the more chance will have to win!
Year after Year people create new and exciting software for us to enjoy, whether it be a game we love to play, some software that makes our lives easier or a blog that never fails to entertain us, Bytes that Rock believe the people, developers and writers behind these important software programs, games and blogs deserve to be rewarded for their hard work. Because of that the first ever annual Bytes that Rock software awards are here to recognize the best, most exciting and most innovative software in a variety of categories. With over 100 nominees, 12 per each of the 11 categories, there is surely something for everyone. Bytes that Rock put together a team of excellent judges from within the industry who with their help and the public's, the winners of the Bytes That Rock Software Awards will be decided.
According to the jury, the nominee selection has been hard for various reasons as they explain in the following testimonies:

Adam Singleton, leading software review writer at Rocky Bytes:
"We had to choose the best of the best among a number of requests submitted by users, software developers, gamers and bloggers. Many good and innovative ones had to be left behind because there's only room for 12 nominees per category. This is prove that this industry is in constant growth, and there's always room for improvement, for new features and innovation."
David Gracia, Programmer, video game developer and computer game enthusiast:
"The choice of the best games for PC and indie games has been particularly difficult this year due to the spectacular games that have been released. As a matter of fact we had to add some last minute AAA games because they were too good to leave them out."
NOMINATIONS
The nominee categories are split in to games, software and blogs and then with sub categories within each of those.
The categories are divided as follows with the final nominees specified in each category.
1) PC Software Categories:

>Overwolf
>Spotify
>Adobe Fireworks
>Mobogenie
>Synology DSM
>Axure
>Balsamiq Mockups
>JetClean
>Wise Care 365
>Office 2016
>Windows 10
> IOBit Uninstaller

>Launchy
>TeamViewer
>aTube Catcher
>Lightshot
>Bluestacks
>Ultrasurf
>Steam
>Winrar
>BS.Player
>Recuva
>Sony Vegas Pro 13
>Photoshop CC

Most innovative software:
>GeForce Experience
>Telegram
>Prezi
>Mouse without borders
>AMIDuOS
>Join.me
>DriverEasy
>KeyLemon
>IdeaMaker 3D Slicing
>VMware VSphere Hypervisor (ESXi)
>Nagios XI
>Airdroid

Best Protection Software:
>Windows Defender
>Avast Premier
>McAfee Total Protection
>Panda Antivirus Pro
>Kaspersky Anti-Virus
>Norton Security Standard
>Avira Internet Security Suite
>Nod32
>Clamwin
>Ad-Aware
>AVG Antivirus
>Spybot Search & Destroy

Best Open Source Software:
>Firefox
>Blender
>GIMP
>Filezilla
>7-zip
>Notepad++
>Ubuntu
>LibreOffice
>Chamilo LMS
>Miro
>Messic
>Digikam
2) Game Categories:

>Dragon Age: Inquisition
>Fallout 4
>Football Manager 2015
>Metal Gear Solid
>Heroes of Storm
>NBA 2K15
>Dying Light
>The Witcher 3: Wild Hunt
>Project C.A.R.S.
>GTA V
>Battlefield Hardline
>Star Wars Battlefront
-Best Indie Games:
>Rising World
>Goat Simulator
>Her Story
>Kerbal Space Program
>Transistor
>Regular Human Basketball
>Shovel Knight
>This War of Mine
>Tap Happy Sabotage
>Towerfall Ascension
>Never Alone
>Block 'N' Load

>No Water + Tsunami + Atlantis Mod (GTA V)
>T3nd0's Skyrim Redone
>Falskaar
>Edain Mod
>Half-Life 2: Update
>Brutal Half Life
>S.T.A.L.K.E.R. Lost Alpha
>Tinkers Construct
>Sands of Faith
>Moonpath to Elsweyr
>Kerbal Engineer Redux
>Ultimate Apocalypse Mod
3) Blog Categories
>Joel on Software
>Coding Horror
>Scott Hanselman Blog
>Matthew William
>TheDailyWTF
>Raible Designs
>Adam Warski
>Cool Thing of the Day
>Geek Speak
>David Walsh
>Shallow Thoughts

>ArcadePop
>Drakulus
>Chalgyr
>Gamers Sphere
>1001UP
>Critical Gamer
>Retro Game ON
>Indie Game Enthusiast
>Recollections of Play
>Link Saves Zelda
>2D Game Art

>The Hacker Blog
>Krebs on Security
>/dev/random
>Schneier on Security
>Hack a day
>Darknet.org.uk
>Graham Cluley Blog
>Skull Security
>The Ashimmy Blog
>Matt Flynn's Security and Identity Blog
>Security-FAQ's
>Infospectives
Find out more information on the event website: http://www.rockybytes.com/bytes-that-rock
Rocky Bytes is a modern independent website that brings the most popular windows games and program reviews to the user. All the software is reviewed and scored by experts. The Rocky Bytes web site belongs to the company Parsec Media S.L.