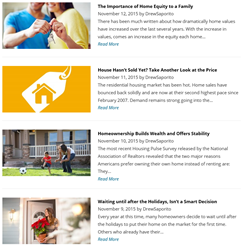 Jupiter, FL (PRWEB) November 19, 2015
The new blog, which is available at http://drewzlist.com/category/blog, features original, exclusive content that home buyers and sellers will not be able to find anywhere else online or offline. A small sampling of recently-published blog posts include:

The Importance of Home Equity to a Family
House Hasn't Sold Yet? Take Another Look at the Price
Homeownership Builds Wealth and Offers Stability
Waiting until after the Holidays, Isn't a Smart Decision
Applying For A Mortgage: Why So Much Paperwork?
Home Equity: You May Have More Than You Think
Are Millennials Finally Entering the Market?
Why You Should Stop Renting & Buy Today!
Most Experts Agree: There is No Housing Bubble
What You Do Not Need To Hear From Your Listing Agent!
"Home buying or selling does not need to be a scary, stressful or risky experience," commented Drew Saporito. "It is simply a matter of getting the right information and guidance at the right time. And while my blog posts aren't meant to replace customized and personalized advice, they can certainly help people get the insights and education they need to move forward through the real estate process with confidence and clarity."
Home buyers and sellers are also invited to sign-up for Drew Saporito's new Market Snapshot Report, which is an automated online tool that uses up-to-the-minute MLS data to provide real-time real estate insights and trends. The report is available at no-cost, viewable on any device, and available on-demand from drewzlist.com.
About Native Realtor® Drew Saporito
A proud native of Jupiter, Florida, Drew has built an outstanding reputation for marketing distinguished properties by utilizing effective marketing strategies and innovative product differentiation techniques, coupled with industry know-how and up-to-date market monitoring. With his Broker Keyes Real Estate Company and strong affiliations including Leading Real Estate Companies of the World, Luxury Portfolio International and Who's Who in Luxury Real Estate, Drew brings even more value to his clients, allowing him to expand his reach through powerful local and global connections.
Need help selling your exceptional property in one of the idyllic Northern Palm Beach communities? Enlist Native Realtor® Drew Saporito for the job call 561-309-3571. Click Here for additional information.