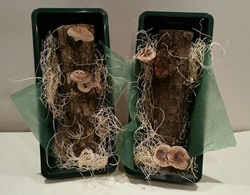 Log kits grow organic gourmet mushrooms for 3-5 years, with bigger and better harvests as they reach their prime.
Perkins, OK (PRWEB) November 19, 2015
Lost Creek Mushroom Farm launches a new upbeat video on their shiitake mushroom growing kits. 'It's a fun, upbeat video that makes me want to dance," said The Mushroom Lady, Sandra Williams of Lost Creek Mushroom Farm. "Our mushroom log kits are big favorite for holiday gifts and this video leads right to our website."
Watch the video here.
Lost Creek Mushroom Farm's mushroom log kits grow organic gourmet shiitakes about every 2 months for 3-5 years. The logs improve with age. "Definitely a plus for people who love gardening, love mushrooms, and who enjoy the surprise of something completely different," according to The Mushroom Lady, Sandra Williams of Lost Creek Mushroom Farm. "When the logs are just beginning to grow, they put out a few mushrooms at a time. with bigger and better harvests as they reach their prime in the second and third years. The whole log can be covered, top to bottom. Then harvests taper off."
"As we eat the mushrooms, the shiitake eats the wood inside the log and is constantly growing. A log kit is a gift that really keeps on giving."
"Many people don't know about growing shiitakes on real logs, and very few people in the US have ever eaten log-grown shiitakes. "That's why the log kits are such a great gift idea for mushroom lovers, gardeners and foodies," The Mushroom Lady suggested.
"Most people who love shiitakes can only get mushrooms grown commercially on sawdust. They're still good mushrooms and good for you. But -- shiitakes grown on logs are firmer, much tastier, and give you more nutritional and health benefits. Log-grown shiitakes, when they're available, can cost 50-100% more."
The logs will grow inside like plants and outside in shade. They require soaking in non-chlorinated water every two weeks. "Shocking" them in ice water triggers the mushrooms to grow, and harvest follows 6-10 days later. The logs produce a crop about every two months for 3-5 years.
Kits come in a range of prices from $18 to $90. Each kit includes one or more hardwood logs such as oak or gum, instructions, and a recipe booklet. Kits with two logs, such as the Ma & Pa Kit with two 10" logs and the Best Buy with two 14" logs and soaking trays, can provide a harvest every month by alternating the producing log. The Shiitake Sampler Cookbook with 51 shiitake recipes can be added to any kit for $8.95. Prices include shipping. Logs over 9 inches are guaranteed to grow shiitakes.
"I recommend the Best Buy, two logs and trays sent to the same address, because it saves $10. I like to say, 'Give on as a gift and keep one for yourself.' "
The Mushroom Lady urges early ordering for the holidays from http://www.shiitakemushroomlog.com or at slightly higher prices on Amazon.com.
Lost Creek Mushroom Farm donates a portion of sales to Mushrooms in Ghana Project, a program of Mushrooms for Well Being Foundation. The project is building a spawn (mushroom seed material) laboratory, enabling more mushroom farmers to grow more mushrooms in West Africa. (5-minute video here.)