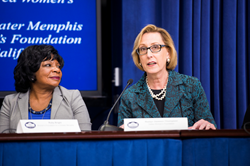 Dallas, Texas (PRWEB) November 18, 2015
Dallas Women's Foundation joined in the pledge by Prosperity Together, a nonpartisan partnership of public U.S. women's foundations that are members of the Women's Funding Network, to make a collective five-year, $100 million funding commitment to create pathways to economic security for low-income women and their families in America. Each of the Prosperity Together partners are committing to continue and increase their investments in women's economic security – a longtime priority of all women's foundations – through research, advocacy and grant making in their states and regions. Dallas Women's Foundation's commitment is $10 million over the next five years through its Economic Security Initiative, which has already committed more than $4 million since its inception in 2013.
Prosperity Together made the announcement at the White House Summit on Advancing Equity for Women and Girls of Color on November 13, which focused on a wide range of issues including the barriers and solutions to economic security confronting millions of low-income women of color living in America.
While women account for 57 percent of the workforce, the wage gap persists — women earn 79 cents for every dollar a man earns — and too often occupy minimum wage or part-time jobs, with little to no employer-sponsored benefits, and limited opportunity for growth and advancement. According to Dallas Women's Foundation's Economic Issues' for Women in Texas study, 63 percent of Texas and Dallas minimum wage workers are women and the average income for a single mother with one child in Texas is $24,870. This mom faces critical economic challenges, including the high cost of child care, which forces many single mothers out of the workforce. For a single mother in the Dallas metro area, the year round cost of typical care for one child represents 21 percent of her income.
"In the Dallas area 30 percent of all households are female-headed, yet female-headed households represent 53 percent of households living in poverty. These are similar to the statistics we are seeing across the country," said Roslyn Dawson Thompson, CEO and president of Dallas Women's Foundation. "The research is clear – that we must invest in women and girls in order to strengthen not just our gender, but our families and our communities. This commitment made by the women's foundations in America demonstrates our expertise and ability to undertake the significant work ahead to ensure women are equal members in our society, and our collective resolve in making sure that happens."
For more than 30 years, women's foundations have invested in local solutions for low-income women and their families, community by community. Dallas Women's Foundation has worked in North Texas for 30 years, granting $30 million dollars, to support women and girls. Prosperity Together will harness the collective power, leadership and proven effectiveness of women's foundations working together to ensure women's economic security in America. The partnership will also issue a call to policy makers, business leaders, the philanthropic community and the public to understand that economic prosperity for all is guaranteed only when economic security and equal opportunity are guaranteed for low-income women. The women's foundation partners will use their respective experience and knowledge to continue funding programs that are proven effective in their communities and states. The types of programs that will be funded include:

Job Training: Fund job training programs that are customized to address the cultural and educational needs of low-income women in order to secure a higher-wage job in a stable work environment.
Child Care: Fund programs that enable access for low-income women to affordable, high-quality childcare, so they can be successful in the workplace and their children have a strong academic start in life.
Research: Fund state and national research to inform best practices and policies that increase economic security for low-income women, particularly women of color.
Prosperity Together advisory committee members include the Chicago Foundation for Women; Dallas Women's Foundation; Iowa Women's Foundation; the Ms. Foundation for Women; The New York Women's Foundation; The Women's Fund of Central Ohio; Washington Area Women's Foundation; the Women's Foundation for a Greater Memphis; the Women's Foundation of Minnesota; the Women's Foundation of Mississippi; the Women's Foundation of Southwest Florida; and the Women's Funding Network.
Click here for more information on Prosperity Together, a list of all participating public U.S. women's foundations and the five-year funding commitment.
###
About Dallas Women's Foundation
Dallas Women's Foundation is the largest regional women's fund in the world. It is a trusted leader in advancing positive social and economic change for women and girls. The Foundation was built on the belief that when you invest in a woman, there is a ripple effect that benefits her family, her community and her world. Dallas Women's Foundation has researched, funded and demonstrated the ripple effect since 1985 in North Texas, granting more than $30 million since inception and over $4 million annually to help create opportunities and solve issues for women and girls. With the support of its donors, the Foundation unlocks resources to improve education and quality of life, give voice to issues affecting women and girls, and cultivate women leaders for the future. For more information, visit http://www.DallasWomensFdn.org, Facebook, Twitter, LinkedIn, or Instagram.