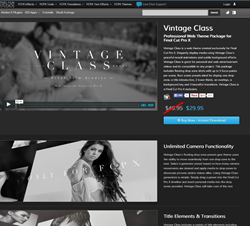 Elegantly display media using Vintage Class' graceful reveal animations and subtle background effects.
Aliso Viejo, CA (PRWEB) December 30, 2015
Vintage Class is a web theme created exclusively for Final Cut Pro X. Elegantly display media using Vintage Class' graceful reveal animations and subtle background effects. Vintage Class is great for personal and web advertisement videos and its compatible to any project. This package includes floating drop zone shots with up to 5 focus points per scene, floor scene presets ideal for display one drop zone, a title introduction, 2 lower thirds, an overlays, a background key and 3 beautiful transitions. Vintage Class is a Final Cut Pro X exclusive.
Vintage Class's floating drop zone presets give theme users the ability to move seamlessly from one drop zone to the next. Select a generator preset based on how many camera movements are desired and apply media to drop zones to showcase pictures and/or videos alike. Using Vintage Class generators is simple. Simply drag a preset into the Final Cut Pro X timeline and insert personal media into the drop zones provided. Vintage Class will take care of the rest.
Vintage Class includes a variety of title elements including lower thirds, an overlay, and a title introduction. Keyframeless lower thirds can be used to introduce people and/or settings while the title introduction is great as an opener for any video project. Also packaged in Vintage Class is the Dirty Flare Screen Overlay. Apply on top of scenes to add realistic lens dirt and brilliant light effects over footage.
Thematic background keys are great tools for setting up a scene with an animating backdrop. Vintage Class's Cloudy Background Key gives scenes a nice and subtle look to use as a backdrop for media, text and more. Change the colors, noise, opacity, animation and more using the inspector window in FCPX.
Seamlessly transition from one scene to the next using Vintage Class's packaged web transitions. Choose from 3 unique transition styles including wipes, reveals, and web page turns. Each transition contains an assortment of easy-to-use controls that allow users to transition from different directions, using various colors and more. Adding these fluid transitions can help make projects cohesive by tying together scenes seamlessly.
Established in 2006, Aliso Viejo, California-based Pixel Film Studios is an innovative developer of visual effects tools for the post-production and broadcast community. Their products are integrated with popular non-linear editing and compositing products from Apple FCPX. Apple, the Apple logo, Mac OS X, and Macintosh are registered trademarks of Apple Inc. in the U.S. and/or other countries. All other trademarks and trade names are the property of their respective owners.