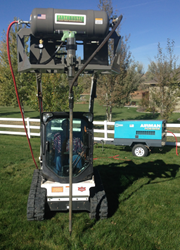 "When I discovered the EarthBuster's capabilities, I was so impressed that I bought the patent!" ~ Ken Miller, K&P Enterprises, LLC
Laurel, MT (PRWEB) November 18, 2015
It is now called the EarthBuster™ Deep Soil Decompactor, and the new owners plan to make that a household name. K&P Enterprises, LLC of Laurel, MT recently acquired the machine's patent with a mission of making it the world's standard solution for rejuvenating septic drain fields that are failing from either soil compaction or heavy build-up of that black slime known as "biomass". The EarthBuster™ drives a steel probe into the ground and injects blasts of compressed air through the probe in order to open fissures in the soil, through which water, air, and minerals can flow at an increased rate. "As a residential landlord, I had been searching for a cost-effective way to rejuvenate septic drain fields on my rental properties," says K&P president, Ken Miller. "When I discovered the EarthBuster's capabilities, I was so impressed that I bought the patent!"
K&P Enterprises, LLC is now manufacturing the EarthBuster in Laurel, MT and has initiated what will grow into a full nationwide marketing campaign aimed at septic and construction contractors, municipal works departments, orchard and vineyard growers, and eventually, consumers. It has already initiated an online directory of EarthBuster service providers and plans to advertise directly to consumers in the future. "With EarthBuster," says Miller, "it's such a win/win deal; the home owner gets a quicker, "greener", and less expensive repair, while the contractor gets much stronger profits than with traditional services such as septic tank pumping—and the EarthBuster is built right here in the USA!".
K&P has continued scientific testing to validate the EarthBuster's usefulness in various applications, including a soil absorption test in which EarthBuster-treated soils absorbed water six times faster than untreated soils. "That test, as exciting as it is, came as no surprise as we've seen backed-up septic tanks start to drain out immediately once we start treating the drain field," says Miller. "We've also successfully drained a large pond from a gravel parking lot where it had stood for days, and we're also looking forward to testing EarthBuster's effectiveness at remediating agricultural hardpan in between plantings."
K&P has partnered with Marlin Equipment Leasing to provide financing for buyers, and is currently conducting a soft roll-out of the EarthBuster Deep Soil Decompactor. They plan to exhibit the EarthBuster to the wastewater industry at the 2016 WWETT Show in Indianapolis, IN on February 17-20, 2016, and further plans for other trade shows in 2016 are under way.
About K&P Enterprises, LLC
ABOUT K&P ENTERPRISES
K&P Enterprises is a family-owned business in Laurel, MT, run by Ken and Peggy Miller. The company acquired US Patent No. 6,939,085 in early 2015. The machine, patented in 2005, is already established as an effective solution for septic drain field rejuvenation throughout the United States and Canada. For more information on the EarthBuster, please visit http://earthbuster.com.