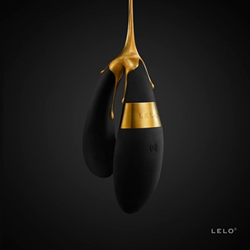 The TIANI™ 24k is the first sex toy to come with 'Couples' Insurance' and a decadent ring of 24 karat gold, making it the most luxurious remote-controlled massager in the world today.
Stockholm/San Jose (PRWEB) November 18, 2015
LELO today launched a new couples' sex toy, for wearing during intercourse. The TIANI™ 24k is the first sex toy to come with 'Couples' Insurance' and a decadent ring of 24 karat gold, making it the most luxurious remote-controlled massager in the world today.
Just as 'the ring' has become a symbol of commitment, LELO's latest product comes with a commitment of its own: LELO pledges to replace the TIANI™ 24k couples' massager with one of its bestselling products, in the unfortunate event that the couple part ways within 12 months of purchasing the pleasure product. LELO is offering this unique benefit because of the significant positive impact their products have on relationships.
LELO does not anticipate many returns of the TIANI™ 24k. LELO's Director of Marketing, Steve Thomson, says: "LELO is not simply about bringing people together, we're about keeping them together, and we're prepared to prove it. We have the pleasure of hearing regularly from satisfied customers of all ages and backgrounds heralding the impact that our products have had on their relationships. LELO is a brand that's committed to enhancing the connection between partners and we have no hesitation in putting our money where our mouth is: we are confident our latest innovation, the TIANI™ 24k, can have a truly positive impact on the relationship of the owners."
A recent survey of more than 5000 LELO customers revealed:

83% of couples who have used a sex toy say it had a positive effect on their relationship.
71% of couples reported an improvement in their sex lives after using a couples' massager
57% claim sex is 3 times better as a result of experimenting with a couples' massager.
"It's a new and creative way for us to connect and bond"
–Sue (53) married for 20+ years
"It has allowed us to experience an equal level of sexual pleasure."
-David (36) in a relationship for 6-10 years
"Takes things to the next level and builds trust because we are more open to discussing other subject matters that are otherwise known to be uncomfortable or taboo."
-Anonymous
Award winning sex educator and host of Sex Out Loud, Tristan Taormino says: "Using couples' sex toys like the TIANI™ 24k, helps people open up to each other. Once a couple has the confidence to introduce toys into their sex life, a world of possibilities opens up. With TIANI™ 24k, designed for use during intercourse, they can begin to create opportunities for mutual pleasure. This can build trust and intimacy which can spill over into other aspects of the relationship."
Dr Ian Kerner, Sex and Relationship Counselor and author of She Comes First says: "When I prescribe the use of LELO couples' massagers to my clients, they get excited about the prospect of a new sex adventure but they don't understand how it can help them build a stronger relationship. But then they all come back and tell me it has helped them connect on a new level and open up and communicate more, especially about topics they previously felt uncomfortable discussing."
The TIANI™ 24k, set to be a bestseller for Christmas, comes with a unique serial number and is currently on promotion with an introductory 50% off. Featuring two powerful vibrating motors; one motor provides internal stimulation and the other provides external pleasure, making it one of the most advanced couples' pleasure product around today. TIANI™ 24k also comes with LELO's patented SenseMotion™ remote-control, allowing the users to change the intensity of the vibrations with a flick of the wrist.
More information on the luxury TIANI™ 24k can be found at http://www.lelo.com/tiani-24k.
Expert Testimonials
Sunny Megatron - Sexuality Educator and Host of the Showtime original series, Sex with Sunny Megatron
"Couples' massagers can level the playing field in terms of pleasure level during intercourse. The majority of women require some clitoral stimulation to reach orgasm. Because couples' massagers allow both partners to engage and receive pleasure at the same time, they can make partners feel more connected. More connectedness and intimacy can turn average sex into a mind-blowing experience."
Jessica Howe – Sex Expert and Author of Kinky Sex: the Secret to Long-term Desire and The Essential Guide to Sex Toys
"Sexual exploration can be like space exploration – expensive, but so worth it. Using a couples' massager like the TIANI™ 24k takes traditional intercourse to the next level. I love the way we're getting sexually sophisticated enough to demand 24 carat gold."
Jacqueline Hellyer – Sex and Relationship Educator
"Enjoying the anticipation of buying and receiving the TIANI™ 24k massager and then experimenting with it and sharing the pleasures discovered, a couple can become more open with each other, more vulnerable with each other, and that's where the depth of connection develops."
Katy Red – Sex Dating and Relationship Expert
"Unlike most sex toys, couples' massagers such as the TIANI™ 24k ensure both people feel the benefits, designed to be used together, couples' massagers help to enhance the pleasure, whilst allowing the couple to still feel connected."
Notes to Editor
LELO Couples' Insurance
LELO Couples' Insurance begins the day the product is purchased.
Claimants need to provide proof of purchase but do not need to provide any proof of their relationship break-up. All relationships are built on trust, and so is the one between LELO and its customers.
Claimants will be offered a selection of LELO Bestsellers to choose from as a free replacement item.
Price
For a limited period, as a thank you to existing customers, TIANI™ 24k is being launched at 50% of its normal price. The introductory price is $199 and the normal price will be $399.
Note to Editors: All media inquiries can be directed to pr(at)lelo(dot)com
LELO is the world's leading designer brand for intimate lifestyle products. On launching in 2003, LELO transformed the look, feel and function of how personal massagers were perceived, and now applies the same commitment to quality and innovation through bedroom accessories and soy massage candles. LELOi AB is the Swedish company behind LELO, where offices extend from Stockholm to San Jose, from Sydney to Shanghai.