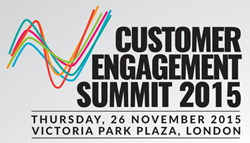 Whether before, during or after a purchase, the expectations of today's tech-savvy customers are high when it comes to engaging with brands.
London, UK (PRWEB) November 19, 2015
Creative Virtual, a world leader in self-service customer engagement solutions, has announced their sponsorship of the Customer Engagement Summit 2015 taking place in London on Thursday, 26 November. Liam Ryan, Head of Sales at Creative Virtual Ltd, will also be featured as a speaker in the Financial Services track at the annual event.
This year's Customer Engagement Summit, hosted by Engage Customer, will focus on the theme of 'How future technology and business models will change the way we work and engage with our colleagues and customers'. As the UK's largest customer and employee engagement event, the Summit will provide the opportunity for attendees to gain new insights, discuss best practices and experience innovative solutions from leading experts and practitioners. Creative Virtual will be showcasing V-Person™, their natural language virtual assistant technology, on Stand 14.
In his presentation, titled 'Using V-Person Technology for Omnichannel Customer Engagement', Liam will show live demonstrations and share use cases from organisations currently utilising Creative Virtual's Smart Help technology to meet omnichannel customer engagement goals. The case studies will highlight how these solutions enable organisations to offer on-demand self-service options around the clock and allow customers to move seamlessly from one service channel to another, with context awareness and a full history of their conversation moving with them.
"Whether before, during or after a purchase, the expectations of today's tech-savvy customers are high when it comes to engaging with brands," said Liam. "I'm looking forward to the opportunity to share how Creative Virtual's Smart Help solutions are not only empowering organisations to address the needs of today's customers, but also giving them the flexibility to evolve with changing customer expectations as we look to 2016 and beyond."
To view the full agenda and register to attend the Customer Engagement Summit 2015, visit the Engage Customer website.
ABOUT CREATIVE VIRTUAL
Creative Virtual is a world leader in self-service solutions that enable anywhere, anytime customer engagement between brands and their customers. Leading global organisations including Lloyds Banking Group, Time Warner Cable, HSBC, Verizon, Chase, InterContinental Hotels Group, Autodesk and Tesco rely on our award-winning V-Person technology to improve their customer support experience, increase sales, reduce costs and build brand loyalty.
Backed by an experienced, expert team as well as an extensive partner network, our innovative virtual agent, knowledge management and business intelligence platform empowers organisations to provide customers with consistent, accurate, personalised and seamless omnichannel engagement across web, mobile, social, SMS, contact centre and IVR channels. Delivering significant contact deflection and reductions in average call handling times, as well as increased first contact resolution, together with powerful customer analytics and outcome tracking, the V-Person Smart Help platform is the most compelling self-service product in the world today.
Creative Virtual is headquartered in the UK with operations in the United States, the Netherlands, Australia, New Zealand, India, Singapore and Hong Kong. For more information about Creative Virtual and V-Person technology, please visit our website at http://www.creativevirtual.com.