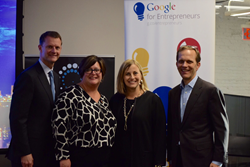 "I'm grateful that the Kauffman Foundation has chosen to partner with the Nashville Entrepreneur Center to fulfill its mission." Nashville Mayor Megan Barry
Nashville, TN (PRWEB) November 17, 2015
Mayor Megan Barry today announced that the Ewing Marion Kauffman Foundation will partner with the Nashville Entrepreneur Center on an 18-month engagement to strengthen the city's capacity to support entrepreneurs. The Kauffman Foundation's contributions will include grants, technical assistance and research.
"Entrepreneurs help to promote innovation and creative thinking, which leads to new products and companies that create good jobs and spur economic growth," said Mayor Megan Barry. "I'm grateful that the Kauffman Foundation has chosen to partner with the Nashville Entrepreneur Center to fulfill its mission of advancing educational achievement and entrepreneurial success. I know that, together, we will be able to tap Nashville's ever-present entrepreneurial spirit to accomplish great things."
This partnership announcement also coincides with Global Entrepreneurship Week (GEW), which is a celebration of the innovators and job creators around the world who launch startups that bring ideas to life, drive economic growth and expand human welfare. During this week, GEW inspires people everywhere through local, national and global activities designed to help them explore their potential as self-starters and innovators.
"We are excited to partner with the Kauffman Foundation to further enhance the entrepreneurial ecosystem in this community. The Foundation's support will provide the necessary resources to further our mission to be the best place in America for entrepreneurs," said Stuart McWhorter, CEO and president, Nashville Entrepreneur Center.
Nashville was among the nation's 100 largest metro areas invited to apply for the Kauffman Foundation award, and is one of two cities selected, along with Burlington, VT. The first and only other city the Kauffman Foundation has partnered with in this capacity is Albuquerque, NM. The Kauffman Foundation's engagement in Albuquerque included funding a startup accelerator for water energy technology companies, working with the local community foundation to create a permanent fund to support entrepreneurship-focused nonprofits in the community, and providing technical assistance to the City as it develops and implements its plans for growing its entrepreneurship ecosystem.
Working with the Nashville Entrepreneur Center and other community partners supporting Nashville's entrepreneurial growth, the Foundation's support in Nashville will be tailored to the city's specific economic conditions and its entrepreneurial ecosystem. Kauffman and the Nashville Entrepreneur Center are concluding a six-month discovery process and expect to formally announce the first grant before the end of the year.
ABOUT THE NASHVILLE ENTREPRENEUR CENTER
The EC, with offices at 41 Peabody Street in the Rutledge Hill area, was founded as an economic development initiative of the Nashville business community with a vision to become the best place in America for entrepreneurship. Its mission is to connect entrepreneurs with the critical resources to create, launch and grow businesses.
The EC fosters innovation and entrepreneurship by helping to start businesses and create jobs. As a non-profit 501(c)3 organization, the Center is funded through sponsorships, partnerships, donations and grants. The EC relies on support from leading corporations, successful entrepreneurs and those who have a vested interest in the Center's success. For more information, visit our website at http://www.ec.co
ABOUT THE KAUFFMAN FOUNDATION
The Ewing Marion Kauffman Foundation is a private, nonpartisan foundation that aims to foster economic independence by advancing educational achievement and entrepreneurial success. Founded by late entrepreneur and philanthropist Ewing Marion Kauffman, the Foundation is based in Kansas City, Mo., and has approximately $2 billion in assets. For more information, visit http://www.kauffman.org, and follow the Foundation on http://www.twitter.com/kauffmanfdn and http://www.facebook.com/kauffmanfdn
Contact: Zach Hunt 615.321.3110 / zach(at)tsgnashville(dot)com