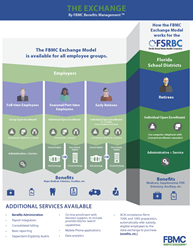 "The exchange offers a comprehensive solution that fulfills the administrative and compliance requirements employers face in today's market, and offers the consumer a simple and accessible means to obtaining their benefits."
Tallahassee, Florida (PRWEB) November 18, 2015
The Florida School Retiree Benefits Consortium (FSRBC) is excited to announce its partnership with FBMC Benefits Management™ (FBMC) to offer a private retiree benefits exchange that will maximize benefit offerings and streamline the benefits administration and enrollment process for their member school districts in Florida. The exchange is a one-stop shop for the districts, providing the first total benefits management solution.
Private exchanges are an increasingly popular solution for employers facing the challenges of rising healthcare costs and requirements. Exchanges enable participants to find plans personalized to their budget, specific health conditions and preferred provider networks. The FSRBC is FBMC's first client to offer the exchange to participating Medicare eligible retirees.
"With recent and upcoming changes in the insurance industry, this exchange for retirees couldn't come at a better time," said FSRBC Executive Director David Ford. "By offering the exchange to our members, we are better able to serve the benefits needs of participating retirees. The exchange also benefits the school districts by easing their administrative burdens, including reducing their GASB 45 liabilities by as much as 54 percent."
The FBMC exchange model offers FSRBC participants:

The power to choose a comprehensive health care package that includes Medicare Advantage Plans, Medicare Supplement Plans, Prescription Drug Plans, and voluntary benefits such as dental, vision and more.
A streamlined process with an integrated platform to manage all aspects of enrolling in a benefits plan, including multiple payment options.
A savings benefit that takes advantage of FSRBC negotiated rates.
School districts who offer benefits to Medicare eligible retirees are increasingly looking to the exchange model for their benefits administration. District advantages include:

The combined benefits purchasing power of Florida school districts.
A reduced GASB 45 liability by shifting retirees to the exchange.
A comprehensive service solution for enrollment, communications, billing reconciliation, and administration with district payroll and carrier systems.
"We are excited to see the results of our inaugural exchange for FSRBC," said David Faulkenberry, president of FBMC. "Depending on the needs of our clients our exchange model can include all employee and retiree groups. The exchange offers a comprehensive solution that fulfills the administrative and compliance requirements employers face in today's market, and offers the consumer a simple and accessible means to obtaining their benefits."
To learn more visit http://www.myfsrbc.org
About FSRBC
The Florida School Retiree Benefits Consortium (FSRBC) provides participating Florida school districts access to high-quality medical and voluntary insurance products for Medicare-eligible retirees. By combining the purchasing power of multiple school districts, the FSRBC is able to offer expanded benefit options at the best rates. For more information about the FSRBC, visit http://www.myfsrbc.org.
About FBMC
FBMC Benefits Management™ (FBMC), an industry leader for more than 39 years, provides comprehensive employee benefits management. FBMC affords employers customized solutions, including brokerage of voluntary/core products, benefits education and communications, enrollment management, and administrative and compliance services. It partners with only "best in industry" insurance providers with A- and above ratings. FBMC is headquartered in Tallahassee, Florida, with on-site client field offices throughout the United States. For more information about FBMC, visit http://www.fbmc.com and http://www.fbmclearningcenter.com.