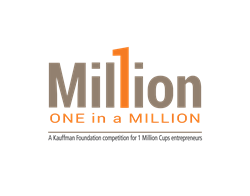 Kansas City, Mo. (PRWEB) November 17, 2015
Five entrepreneurs from across the U.S. have been chosen as finalists in the Ewing Marion Kauffman Foundation's "One in a Million" pitch competition for startup entrepreneurs. The finalists will compete for the chance to win $10,000 during the final round of the competition, which takes place tomorrow in Kansas City, Missouri, at 9 a.m. CST and can be viewed via livestream at kauffman.org/1nam.
The five finalists selected to compete tomorrow are:

Max Aram, Pick My Solar, Los Angeles, California
Clarence Bethea, Upsie, Minneapolis, Minnesota
Chris Costello, blooom, Leawood, Kansas
David Naumann, DryBox, San Antonio, Texas
Matthew Rooda, SwineTech, New Sharon, Iowa
The One in a Million business competition was created for entrepreneurs who have presented at a 1 Million Cups event. Three hundred seventy-seven 1 Million Cups entrepreneurs from across the U.S. applied to compete.
Through two rounds of judging, the initial pool was narrowed to 15 entrepreneurs from nine states who competed in the semifinal round earlier today. The five finalists were chosen from those 15 by a panel of independent judges who evaluated them based on their business's marketability, long-term potential and management team; and their ability to persuasively present their business in a few minutes.
Tomorrow, the finalists will pitch their company and answer questions from three entrepreneurship experts: Marcelo Claure, president and chief executive officer of Sprint; Nicole Glaros, partner and chief product officer of Techstars; and Miriam Rivera, Google's first vice president and deputy general counsel.
Kansas City Mayor Sly James will present a grand prize of $10,000 to the competition winner. The second place winner will receive $5,000 and $1,000 will go to the third-place winner.
Event sponsors include The Roasterie and Kansas City PBS station KCPT.
More information on the One in a Million competition is available at http://www.kauffman.org/1NAM.
About the Kauffman Foundation
The Ewing Marion Kauffman Foundation is a private, nonpartisan foundation that aims to foster economic independence by advancing educational achievement and entrepreneurial success. Founded by late entrepreneur and philanthropist Ewing Marion Kauffman, the Foundation is based in Kansas City, Missouri, and has approximately $2 billion in assets. For more information, visit http://www.kauffman.org.