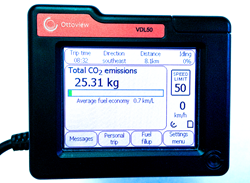 "Ottoview captures the real-time data we are looking for in terms of fuel management, and it also provides our trainers with a very valuable teaching aid for our students." - Robert Barclay, TTSAO Vice President
Winnipeg, Manitoba (PRWEB) November 19, 2015
SDHT is a training program developed by Natural Resources Canada (NRCan) Office of Energy Efficiency to promote the fuel-efficient operation of heavy duty transport trucks. It provides drivers with the information and practical knowledge they need to achieve first-rate fuel-efficiency under a wide range of driving conditions. PERSENTECH's highly innovative VDL50 technology was adopted for this project given its ease of installation, portability, on-screen real-time feedback, and the summary reporting available by collecting various truck performance parameters. Crossroads Training Academy, located in Kingston Ontario, is one of the first truck training schools to use the Ottoview devices in the course. Robert Barclay, TTSAO's Vice President, believes that "Ottoview captures the real-time data we are looking for in terms of fuel management, and it also provides our trainers with a very valuable teaching aid for our students".
PERSENTECH's products and services are used in various transportation studies and vehicle-use surveys including Transport Canada's Canadian Vehicle Use Study deployed nation-wide. The innovations include ease-of-installation, portability to move the device from vehicle-to-vehicle, vehicle-tracking and reporting solutions, smart phone applications, and street level map data for Location Based Services (LBS). The VDL50 multi-protocol logger in particular, can be used with both light and heavy-duty vehicles and provides visual and audible trip information including fuel-use and CO2 emissions.
Through the SmartDriver program, TTSAO envisions cooperation and joint efforts of all truck training schools and the trucking industry itself to set specific standards regarding trucking emissions and driver behavior. One of its main concerns is ensuring that all drivers entering the trucking field maintain a minimum level of knowledge and ability consistent not only with the needs of their employers, but also for the safety of the general public and environment.
For more information about TTSAO and to participate in its SDHT course, visit TTSAO and NRCAN.
Professionals in the areas of Transportation Training and Transportation Research Studies interested in learning more about PERSENTECH are encouraged to visit our websites persentech.com - or - contact Sales at 1.888.647.4564.
About PERSENTECH:
PERSENTECH has been actively developing GPS devices with Location-Based Services since 2004 and delivering vehicle-based and smartphone data logging solutions since 2007. PERSENTECH's Otto Travel Study Solution (OTSS) collects better data, and enables better analysis and decision making in transportation planning, using richer data from multi-modal data sources. OTSS empowers consultants and practitioners to automate the transportation study and travel survey data collection processes. It provides the capability to do better research with better outcomes using more reliable and accurate data collection and powerful data management methods.