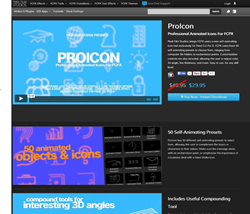 ProIcon's easy-to-use icons can be placed into any project in seconds.
Aliso Viejo, CA (PRWEB) January 02, 2016
Pixel Film Studios brings FCPX users a new self-animating icon tool exclusively for Final Cut Pro X. FCPX users have 50 self-animating presets to choose from, ranging from computer file folders to exclamation points. Customization controls are also included, allowing the user to adjust color, 3D angle, line thickness and more. Easy to use for any skill level.
ProIcon has 50 different self-animating presets to select from, allowing the user to compliment the topics or characters in their videos. Make sure the message sticks with an exclamation point, or emphasize the importance of a business deal with a hand shake icon.
ProIcon includes a useful and intuitive clip compounding tool. This tool, once applied, allows the user to spin or flip their icon in 3d space, and adjust the camera angle of view for more interesting angles & perspectives.
ProIcon includes customization controls which allow the user to modify their icon to the desired look. Line thickness, color, scale, and rotation are all at the users fingertips, giving them the master controls for the ultimate placement of icons. These icons can be scaled to any size.
ProIcon is a set of self-animating icon generators with a compounding effect tool, specially designed for FCPX. These icons are perfect for any business presentation, cartoon show or infomercial. Use the included customization controls for simple compositing and placement of icons in images or video. These easy-to-use icons can be placed into any project in seconds.
Established in 2006, Aliso Viejo, California-based Pixel Film Studios is an innovative developer of visual effects tools for the post-production and broadcast community. Their products are integrated with popular non-linear editing and compositing products from Apple FCPX. Apple, the Apple logo, Mac OS X, and Macintosh are registered trademarks of Apple Inc. in the U.S. and/or other countries. All other trademarks and trade names are the property of their respective owners.