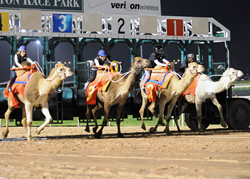 Houston, TX (PRWEB) November 18, 2015
Sam Houston Race Park will open its 22nd Annual Live Racing Season with the kick off of the 2016 Thoroughbred Meet on Friday, January 15 featuring the richest stakes program in Texas. The Thoroughbred Meet will once again be anchored by the richest, single Thoroughbred race day in Texas the Houston Racing Festival, on Saturday, January 30, 2016. The Houston Racing Festival will feature the $400,000 Houston Ladies Classic, the $200,000 John B. Connally Turf Cup (GIII), the Frontier Utilities Turf Sprint, and the Space City Stakes.
Sam Houston Race Park offers more than just the richest stakes program in Texas, race fans can also expect to enjoy special promotions and entertainment during their visit to the Park. This year, a number of special events have been revamped while still including fan favorites like 50 Cent Beer Every Friday, Dollar Days, Wiener Dog Races, and Camel and Ostrich Races. In 2016, fans should expect to see even more Food Truck Fridays and Wine Tasting Events. Some 2016 highlights will include:

Opening Night Military Appreciation Day (January 15)
50 Cent Beer Every Friday 6 pm to 9 pm
Houston Racing Festival benefiting Susan G. Komen (January 30)
Dollar Day at The Park (February 6 & March 26)
Food Trucks Fridays (January 22, February 12, April 8, May 13)
Wine Tasting Events (January 30, February 27, March 25, April 23)
Wiener Dog Races (February 20)
Camel & Ostrich Races (March 4 & 5)
Derby Dog Dash (April 16)
Kentucky Derby Day (May 7)
Mother's Day Brunch (May 8)
Tickets for the 2016 live racing season will go on sale This Friday, November 20th online at http://www.shrp.com. Advanced ticket options include General Admission for just $7 ($4 for Children 4-11 and Seniors over 65; and FREE for Children under 4); Reserved Counter Seat for $11 ($8 for Children 4-11 and Seniors over 65; and $4 for Children under 4) which will include admission and a reserved seat in our counter seat section, and reservations in our Winner's Circle Restaurant which include admission, our Chop House Buffet, non-alcoholic beverages, tax and gratuity for just $29.95.
Friday and Saturday post times for the 2016 Thoroughbred Meet will be 7 pm and 6 pm, respectively. The fun tradition of lunch-time racing at The Park will continue every Monday and Tuesday afternoon with a 1 pm post time. A special 5 pm post time is set for the Houston Racing Festival on January 30th. Post times for the 2016 American Quarter Horse Meet, which begins March 25th, are set for 7 pm on Fridays, 6 pm on Saturdays and 1 pm on Mondays. A special 1 pm post time is set for Kentucky Derby Day on May 7th and Mother's Day on May 8th.
Sam Houston Race Park is Houston's premier racing and entertainment facility, located just 15 miles from downtown Houston, and offers a variety of attractions including our Suite Level presented by Draft Kings, The Pavilion Centre, and award-winning dining options at the Winner's Circle Restaurant and the Jockey Club. For more information on upcoming group events, racing events, shows and tickets, please visit http://www.shrp.com.