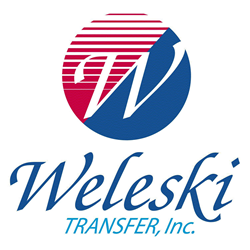 Both Weleski locations are high-performing businesses, year in and year out.
Pittsburgh, Penn. (PRWEB) November 19, 2015
Weleski Transfer, an Agent of Atlas Van Lines, has collected top honors for its customer service and business operations at the 68th annual Atlas Convention in Tucson, Arizona.
Weleski's full-service moving locations in Pittsburgh and Cleveland both earned the Milton M. Hill Quality Award for exceeding Atlas standards of excellence. It was the fourteenth consecutive year for such an award at the Pittsburgh operations; the first for Weleski's Cleveland operations.
"Both Weleski locations are high-performing businesses, year in and year out," says Mike Chick, Vice President, Weleski Transfer. "However, this was the first year our Cleveland location crossed the volume threshold that made it eligible for recognition."
The Milt Hill Award is based on 15 different metrics that gauge the Atlas Agent's performance. As well as the van line's assessments, the award factors in customer feedback. Both locations received outstanding marks for customer satisfaction. When asked "Would you use us again?", 100 percent of customers served by the Cleveland location answered yes.
Similarly, for the Professional Van Operator Rating, both locations exceeded the standard (4.5/5.0) and the Cleveland location was perfect at 5.0/5.0.
Attesting to the care taken in packing, loading, and hauling, Weleski performs well below the standard for claims (3.50 percent of total revenue) with the Pittsburgh operations besting it by more than half at 1.31 percent).
"Our professionals are among the best in the industry, with true dedication to our customers," says Lauren Weleski Swigart, Director of Business Development. "So we're pleased to earn these awards on behalf of our customers."
About Weleski Transfer
Weleski Transfer is a full-service moving company and an agent of Atlas Van Lines with operations in Pittsburgh, Creighton, Kittanning, Tarentum and Johnstown, Pennsylvania, and Cleveland, Ohio. Our mission: To use all of our resources and experience to provide a comprehensive range of moving and storage products and services that will exceed our customer's expectations. For more information, visit http://www.weleski.com.
Atlas Van Lines, a national moving company, is the largest subsidiary of Atlas World Group, an Evansville, Ind.-based company. Atlas interstate moving Agents in the United States and Canada specialize in corporate relocation, household moving services, and transportation of high-value items such as electronics, fine art, store fixtures and furniture. For more information, visit http://www.atlasvanlines.com.