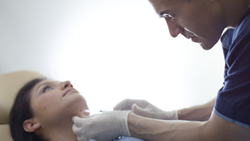 Rolling Meadows, Ill. (PRWEB) November 18, 2015
A flood of news media coverage is introducing many Americans to Kybella, the new injectable drug that melts away double-chin fat.
Adam M. Rotunda, M.D., requires no such introduction. He's been there from the start, with his research more than a decade ago helping to set in motion Kybella's eventual approval by the FDA this spring.
"I am excited for Kybella to become the first agent in a new frontier of injectable medications that promises to shape, contour and reduce small packets of fat without surgery," said Rotunda, a member of the Board of Directors of the American Society for Dermatologic Surgery and founder of Newport Skin Cancer Dermatology in Newport Beach, Calif.
"Just as physicians use injectable fillers to restore volume, Kybella will become an injectable used to reduce volume," he said.
Rotunda's involvement traces back to 2003, when he was a dermatology resident at UCLA studying in the lab of Mike S. Kolodney, M.D., Ph.D, then Assistant Professor of Dermatology. The duo performed a series of experiments on a purported fat-dissolving chemical known then by many names: Lipodissolve, mesotherapy, injection lipolysis and phosphatidylcholine/deoxycholate (PC/DC).
The two performed multiple studies revealing that deoxycholate (DC) alone has very powerful effects on fat, identifying it as the essential, active ingredient in the PC/DC formulation, contrary to conventional thought that PC was necessary for fat dissolution. Rotunda said he was not particularly surprised by the revelation of DC's stand-alone effects but was encouraged by the quick and convincing discovery of its profound effects on fat.
After an affirming clinical trial in 2005 investigating DC's effects on benign tumors of fat tissue, Kolodney presented the finding at a Southern California biotech conference, which caught the attention of the founders of Kythera Biopharmaceuticals (known at the time as Aestherx). The company acquired the rights to the drug, then known as ATX-101. After the long path to FDA approval reached fruition earlier this year, Kybella played a prominent role in Allergan's $2.1 billion acquisition of Kythera this fall.
It is little wonder that Kybella's approval and release – the drug already is available in some areas – have generated extensive news media coverage. An eager marketplace awaits.
In the 2015 ASDS Consumer Survey on Cosmetic Dermatologic Procedures, 67 percent of respondents reported being "somewhat to extremely bothered" by excess fat under the chin and in the neck area.
Patients with minimal double-chin fat (known as submental fullness) might require only two or three treatments, whereas a patient with a much fuller neck might need up to six treatments to achieve the desired results, Rotunda said. The treatment has been rigorously tested in the neck area in more than 2,600 patients.
Patients are expected to experience "transient, mild to moderate swelling, tenderness and perhaps numbness," but Rotunda said none of these effects are permanent and with each subsequent treatment, the effects become less severe. Local anesthesia and ice may help to make the treatment more tolerable.
Noting that "all necks are not created equal," Rotunda said patients and physicians must learn to determine which patients are ideal treatment candidates. As with most aesthetic procedures, "Kybella is a highly personalized treatment," he said.
Rotunda's work in developing Kybella adds to a longstanding tradition of innovation among ASDS members. Society members have played leading roles in pioneering many of the most frequently performed cosmetic medical treatments in addition to assisting with clinical trials proving their safety and effectiveness.
"ASDS members continue to make their mark on the specialty as the leading pioneers of cosmetic medical procedures," said ASDS/ASDSA President Naomi Lawrence, M.D. "Whether it is wrinkle-relaxing injections, soft-tissue fillers, laser procedures or body sculpting treatments, the unmatched expertise and training our members possess places them at the forefront of innovation. The new treatment for submental fat offers yet another example."
Tracking Kybella's progress naturally has commanded Rotunda's attention for the past decade-plus, especially during the whirlwind of the past several months. Regardless, his thriving Southern California practice remains the focal point for Rotunda, a former valedictorian at both Cornell University and SUNY Downstate Medical Center.
"I am extremely grateful to watch the 'deoxycholic acid baby' grow over the past 10 years," he said. "Yet, not personally holding on to it was essential – Mike and I have passed it on to dermatologic surgeons who will offer it at their practices. We hope it will help many patients."
About ASDS
The American Society for Dermatologic Surgery is the largest specialty organization exclusively representing dermatologic surgeons who have unique training and experience to treat the health, function and beauty of your skin. ASDS members are pioneers in the field. Many are involved in the clinical studies that bring popular treatments to revitalize skin and fill and diminish wrinkles to the forefront. Their work has helped create and enhance many of the devices that remove blemishes, hair and fat, and tighten skin. Dermatologic surgeons also are experts in skin cancer prevention, detection and treatment. As the incidence of skin cancer rises, dermatologic surgeons are committed to taking steps to minimize the life-threatening effects of this disease. For more information, visit asds.net.
Follow us:
Website: asds.net
Follow ASDS on Twitter: twitter.com/ASDSSkinExperts
Become a fan of ASDS on Facebook: facebook.com/ASDSSkinExperts
Locate a dermatologic surgeon in your area: asds.net/findadermatologist.aspx
Contact:
Jay Schwab
Communications Manager
American Society for Dermatologic Surgery
jschwab(at)asds(dot)net
847-956-9143