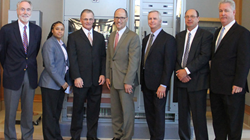 LANHAM, MD (PRWEB) November 18, 2015
President Obama signed a proclamation designating the first week of November as National Apprenticeship Week and noted: "Without the skills to get new, higher-wage jobs, and without the knowledge to adapt to new machinery, systems, technology, and techniques, the American worker could fall behind. Apprenticeships help people upgrade their skills and keep pace with the demands of the 21st century."
The Washington, D.C. Joint Apprenticeship Training Committee (JATC) electrical apprenticeship programs are accredited programs that train approximately 150 new journeyman electricians to enter the local construction industry each year.
Both JATC facilities were recognized in recent ceremonies celebrating 2015 National Apprenticeship Week. On October 31, Virginia Governor Terry McAuliffe visited the Manassas campus, where he toured the training facility and signed a proclamation recognizing the outstanding contributions of the JATC's programs to workforce development in the state.
On November 3, U.S. Secretary of Labor Thomas Perez visited the JATC's Lanham, MD training center where he was greeted by apprentices and faculty members and given an extensive tour of the facility. The secretary engaged a number of students in conversation about their experiences and expectations with the JATC program and was clearly impressed with both the quality of the apprentices and the training they are receiving.
"Our JATC programs invest over $8 million annually training the next generation of electricians at our Manassas, VA and Lanham, MD facilities. We are proud to make this investment in our industry and our people," noted David McKay, chairman of the JATC Trust Fund (JATTF), and president/CEO of Mona Electric Group, one of the region's largest electrical contractors.
Secretary Perez pointed out, "Apprenticeships today are applying the unique 'earn while you learn' foundation and applying it in never before seen ways to expand opportunities for working people in America."
The JATC is sponsored by the Electrical Alliance, a cooperative effort between the Washington, D.C. Chapter of National Electrical Contractors Association (NECA) and the International Brotherhood of Electrical Workers (IBEW), Local 26. Learn more about the JATC apprenticeship program at http://www.getchargedup.org.
About The Electrical Alliance
The Electrical Alliance is a cooperative effort between electrical contractors and skilled craftsmen to provide quality products and services to customers and to set the standard for efficiency and productivity within the electrical industry. It is jointly sponsored by the National Electrical Contractors Association and Local 26, IBEW. To learn more, visit http://news.getchargedup.org or follow the Electrical Alliance on Twitter @dcelec_alliance.