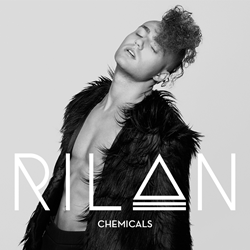 "Rilan is a modern day David Bowie mixed with classic Superstardom elements for the present!"- Dallas Austin
Los Angeles, CA (PRWEB) November 20, 2015
Electro-pop artist Rilan's debut EP, Chemicals is available now. The New Orleans native teamed up with multi-platinum Producer Dallas Austin (Madonna, Lady Gaga, TLC) along with Naz Tokio and Cory Enemy for production on the release. The EP is the follow up to Rilan's independent success which includes over 2.2 million views on YouTube of the music video for his song "Chemical" and his role as a Warbler on the last season of Fox's hit show, GLEE.
Unapologetically bold and daring as an artist, Rilan has been considered a male version of Lady Gaga and has been repeatedly compared to classic David Bowie, but it's not only his music that draws these comparisons. Every visual, including photos, videos, wardrobe and choreography, are all a part of Rilan's ability to seamlessly marry decades of pop culture influences with an added flare of avant-garde.
Following in the footsteps of his influences like Freddy Mercury, Adam Ant and Prince, Rilan never holds back in expressing himself, his message and embraces the traits that make him unique, all while encouraging others to do the same. "I found understanding and acceptance in records like Bohemian Rhapsody, Starman and Fame. That's real power and real music. Nothing makes you feel better than a good pop song in my opinion. That's the best remedy for anything. And that's what I want to do, make pop music that speaks to people. My music is dark but it's also light, I find happiness in dark moments. I think telling people that it's going to be ok when they're sad is important. You're not alone when you listen to my music. Even if it's in a 3 minute 30 second pop song, that's the time I have to tell you I understand you. And I do."
Chemicals EP on iTunes
Chemicals EP on Spotify
Chemicals EP on GooglePlay
Chemicals Track Listing:
1. Abandon My Angels
2. Hotel
3. Crash in the Wreckage
4. I Will Never Change
5. Chemical