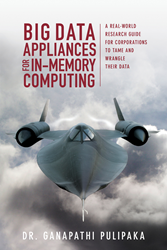 This solution should address all the challenges related to structured and unstructured data in the enterprise and on the scattered footprint of the technical landscape of the company - Tammy Amirault
Los Angeles, CA (PRWEB) December 14, 2015
The book, written by author Dr. Ganapathi Pulipaka, started creating a buzz in the big data and in-memory computing platform terrain. Amazon, a leading provider of books, today enables the publication of this book in both paperback and Kindle editions on their platform.
Big data is creating a new technology revolution in the 21st century, teeming with lifestyle devices impacting all of society for building an intelligent lifestyle and spawning new business models. Big data delivers a next wave generation of connected homes, digital economy, and personalized healthcare. In his new book, "Big Data Appliances for In-Memory Computing - A Real-world Research Guide for Corporations to Tame and Wrangle Their Data," Ganapathi Pulipaka takes the audience on an incredible scientific expedition to research and explores the enterprise-grade big data appliances with blended OLTP and OLAP capabilities.
Enterprise database systems with the aid of big data analytics create an intelligent ecosystem by taming and wrangling the data coming from extreme-disparate sources of structured and unstructured data channels with massive parallelization techniques to explore, conceptualize, envisage, presage, and action the patterns and trends of mashups of big data. The book delves deeper into the research results of industry relevant case studies with the disruption of in-memory computing platform innovation and machine intelligence that diffuses high-speed computing and dynamic performance for business applications and explores how these modern big data analytics tools shape the future of aerospace, automotive, consumer goods and beverages, healthcare, government services, high tech, and public sector industries with human-centered design.
Big Data reached Trough of Disillusionment in 2014. Many industrial research experts believed that it would take two to five years over an extended arc of time for big data to scale along Gartner's Darwinistic hype curve and reach Plateau of Productivity. Gartner listed only 37 emerging technologies in 2015. Big data in 2015 is a reality and beyond Plateau of Productivity. It disappeared entirely from hype cycle. Gartner dropped big data off of the hype cycle for emerging technologies in 2015. A broad class of big data appliances such as IBM DB2 Blu DB2 Acceleration, Oracle Exadata In-Memory Machine, and SAP HANA demonstrated the speed, agility, and off-the-charts dynamic performance. The research study explores the big-data appliances to resolve complex business conundrums of organizations in academics, aerospace, automotive, consumer goods and beverages, healthcare, government services, high tech, and public sector industries by diffusing the speed and disruption of in-memory computing.
Organizations are looking for operational control of their data by maximizing enterprise productivity and defining their objectives for their distributed data on in-memory computing platform intertwined with modern big data appliances deployed on infrastructure that meets their economies of flash and economies of the cloud. An implementation without visions of reality will not yield outstanding results for the organization. Sometimes the objects in the rear-view mirror may appear closer than they are. It is critical for the organization to identify the signals and separate them from noise by mining the data and categorizing the characteristics of business needs when implementing big data appliances on the in-memory computing platform to turn the raw data into actionable results. The technological features aid the enterprise information systems to achieve the objectives. Riding on the new wave of predictive analytics and prescriptive analytics teeming big data tsunami, there is no room for a bevy of industries for guesswork, intuition or hunch for making executive decisions.
In a data-driven economy, lack of business requirements assessment will lead to continuous usage of traditional RDBMS and ETL tools with limited parallelization capabilities in the organizations addressing big data problems. In other instances, massive leverage of big data tools to resolve enterprise information systems problems in the organization can bring the business to a grinding halt as enterprise systems require high-speed computing. Therefore, it is of paramount importance to define the success of the project before making decisions to choose the right set of big data technology tools and techniques. Another important aspect is to set up a data Center of Excellence for the organization. Creation of top-down approach for enterprise data warehousing strategy is fundamental building blocks for big data competency center.
Ganapathi Pulipaka has received rave reviews on his book. "The business intelligence analytics of any organization must determine the usage of big data tools, keeping in sight of the pain points in the enterprise. This solution should address all of the challenges related to structured and unstructured data in the enterprise and on the scattered footprint of the technical landscape of the company. Improper change management and release management in the company could result in information silos in the enterprise. Organizations need to define their enterprise strategy for structured and unstructured data as part of the strategic objectives of the company. This book provided valuable insights into leveraging predictive analytics to run your business and making smarter decisions that are critical to success as a direct result of having proper, accurate, and EFFECTIVE reporting."

Tammy Amirault, Vice President – SAP Management Consulting & ERP, Prosum Technology Services, one of the most respected industry voices of SAP, who led large scale SAP global projects internationally for Fortune 100 corporations including a bevy of SAP BW analytics projects with a budget in excess of $110M for global rollouts.
"This book will aid anyone who is looking for "real-world" examples of big data appliances in various industries and the tools used to overcome strategic challenges. After reading this book there is no confusion in understanding the need for a data "Center of Excellence" if you are today - and going to be in the future – dealing with big data appliances and looking for the right economies-of-flash and in-memory solution."
Dirk Esser, Executive Director of SAP ERP - Strategy and Delivery, Prosum Technology Services
The Paperback Edition of the book is available in Amazon book format and priced at $15.99. In few weeks, it will also be available on the Barnes & Noble website. The Kindle Edition is available on Amazon and priced at $9.99. It is published by High Performance Computing Institute of Technology on Amazon and sold by Barnes & Noble and Amazon on their official websites. For more information, feel free to visit the links from below.
Product Details
Paperback and Kindle Digital Editions
Paperback: 210 pages
Publisher: High Performance Computing Institute of Technology; 1 edition (December 8, 2015)
Language: English
ISBN-10: 1518812961
ISBN-13: 978-1518812965
Product Dimensions: 6 x 0.5 x 9 inches
Shipping Weight: 13.3 ounces
File Size: 3690 KB
Print Length: 167 pages
Publisher: High Performance Computing Institute of Technology; 1 edition (December 11, 2015)
Publication Date: December 11, 2015
Sold by: Amazon Digital Services, Inc.
Language: English
ASIN: B0199R5EGY
Amazon Purchase: http://www.amazon.com/Big-Data-Appliances-Memory-Computing/dp/1518812961
About the Author: Dr. Ganapathi Pulipaka is a distinguished technology leader providing innovatory solution architecture on SAP Business Systems, Enterprise application development, design engineering, management, and consulting delivery services offers expertise in SAP delivery execution and executive interaction as a trusted advisor. He started his career as an SAP ABAP Programmer. He has implemented around 25 SAP projects for Fortune 100 corporations and various other clients in the past 17+ years on next-generation SAP Applications providing a comprehensive portfolio of consulting solutions. He worked for 21 global corporations implementing SAP projects in building Global COE for SAP ERP, CRM, SRM, SCM, PLM, PPM, and BW NetWeaver products. Ganapathi Pulipaka is an SAP Certified Professional. Ganapathi Pulipaka is research scholar in Computer Science and Information Systems who holds a Professional Doctorate Degree in Information Systems and Enterprise Resource Management from California Intercontinental University, Irvine, CA.