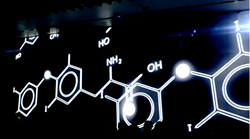 We really wanted to give the University a way to punctuate their event, to make everyone who attended feel as though they really witnessed something special
Chicago IL. (PRWEB) November 18, 2015
Chicago-based projection mapping company Chicago Projection Mapping has recently completely a display for University of Chicago. The display, commissioned for an event dedicating a new building, was conceived as a stunning, novel, and innovative way to mark the dedication so that all of the University associates and administration could usher in the use of this new building with the style and panache befitting a major university. As one of the leading voices in the field of 3D projection mapping, University of Chicago tasked Next Level Events, AV Chicago, and Chicago Projection Mapping with creating a display that would elevate the event.
That display ended up stealing the show, more or less. Projected inside of your typical conference room, this display featured objects that looked three-dimensional and showed off the events theme and branding. The display also featured an element of interactivity, in which an associate approached the wall and press on an area that would start the next segment of the feature. This interactivity brings the display to the next level, heightening the interest of those attending and giving the unique display an added "wow" factor.
"We really wanted to give the University a way to punctuate their event, to make everyone who attended feel as though they really witnessed something special," said Mark Smith, owner and founder of Chicago Projection Mapping. "So our team made sure to include all of the latest in terms of interactive technologies and three dimensional displays." The result, Smith explained, was an interactive display that highlighted the nature of the event—the dedication of the building—in a way that was both natural and heightened, artistic and memorable.
The use of cutting edge projection mapping technologies in events such as the one put on by University of Chicago is becoming much more common. This makes a lot of sense. Using 3D displays to impress guests, administrators, and donors alike, is a good way to show off the innovation and education accomplished by a prestigious university. What's more, having high-tech displays reflects a national emphasis on STEM (science, technology, engineering, and mathematics) programs. Projection mapping, with its emphasis on technology, can be an incredibly effective way to visualize STEM values.
About Chicago Projection Mapping: Based in Chicago, IL, Chicago Projection Mapping is a full service content creation and 3D projection mapping company, serving the corporate, event, meeting, and convention sectors. For more information, please visit http://www.ChicagoProjectionMapping.com, or call 630-620-0000.
Main Chicago Offices 630.620.0000
Email us at Info(at)ChicagoProjectionMapping(dot)com
CPM capabilities
Permanent Projection Mapping Installations
3D and 4D Projection Mapping Design
Temporary Installation
Consultation on All Aspects of Mapping Process
Show Design and Integration
Pre-Visualization, including storyboards and renderings
In-House 2D and 3D Animation Team
Custom Interactive Design Capabilities
Integration with all major video and media formats
Custom Media Servers for flawless operation
Experience with all standard mapping hardware and software
Partnerships with regional and national hardware vendors
On-Site Setup, Mapping, and Event Operation
Remote access and operation for permanent installations
For more information, please visit
http://www.ChicagoProjectionMapping.com,
or call 630-620-0000.