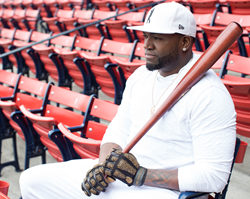 When swinging, it's all about the hands
Dallas, TX (PRWEB) November 18, 2015
Just in time for training season, POWERHANDZ, a sports training products company manufacturing a weighted pure grip baseball glove, has announced a partnership with superstar baseball player David Ortiz of the Boston Red Sox.
David Ortiz is a designated hitter and first baseman for the Boston Red Sox. He is a nine time All-Star and three times World Series champion. Additionally, during the 2006 baseball season, he set a Boston Red Sox record for the most home runs in a single season (54), a record he still holds today. Throughout his career, he has hit 503 home runs ranking him 27th on the MLB all-time home run list. David also holds the record as the all-time leader for a DH in MLB history with 447 home runs, 1,442 runs batted in, and 2,023 hits.
Ortiz clearly doesn't need any help hitting home runs but he believes you can never be at the top of your game. His number one goal is to finish his career strong for his team and his legacy. With POWERHANDZ weighted baseball gloves, Ortiz can use a training tool that focuses on strengthening his hand and arm muscle to create the explosive power he needs. Traditionally, he has used donuts in the on deck circle to help intensify his training. With the use of POWERHANDZ weighted baseball gloves, the weight is now added to his hands, while using his normal bat and giving him the ability to actually hit balls while training. The additional weight will improve athletes' performance by developing increased hand and arm strength, therefore producing a faster bat speed or faster hands for defensive players.
Ortiz commented on what he thinks youth and professionals should know about skill development training saying, "If you fail to prepare, then prepare to fail. That's how I feel about training and skill development. You can have all the passion in the world, but if you don't put the work in to develop your skills, you're going to disappoint. You have to put in the hours, and doing your workout with these gloves on will make a bigger difference than you would think."
Ortiz elaborated on his partnership with POWERHANDZ, "I like POWERHANDZ baseball gloves because they concentrate on the hand, not the bat. When swinging, it's all about the hands. I decided to partner with the brand because I think this may be the new 'secret weapon' for players while training. It's weighted, but not too heavy. Just enough that you notice it, but not too much to confuse your swing. I think this is the next generation donut."
"A little over a year ago, we asked athletes and parents of athletes to trust our brand in the basketball market with our anti-grip weighted gloves and slick ball wrap. The response has been overwhelming, with thousands of product sold in over 55 countries," said Danyel Surrency Jones, Co-founder and COO of POWERHANDZ. "Today, POWERHANDZ has not only created an inspirational brand, we have created the next generation training tool that forces baseball and softball athletes to focus on the mechanics of their most prized possession, their hands."
Darnell Jones, Co-Founder and CEO adds, "At POWERHANDZ, we are committed to making the best athletic performance-enhancing products and to working with the best of the best. David Ortiz is an influential all-star athlete at the top of his sport and we are proud to have POWERHANDZ included in his legacy. Together, we have the power to help athletes achieve their highest potential."
For more information or to order, please visit http://shop.powerhandz.com/ or click here.
About POWERHANDZ
A line of performance-enhancing training products innovatively designed to both strengthen hand and arm muscles and intensify players' dexterity. There are six products in the portfolio designed for basketball, baseball, football, soccer, golf and lifestyle training sports. These products are sold worldwide and are used by athletes of all different skill levels, youth to professionals. Visit the company website for more information http://www.Powerhandz.com
POWERHANDZ was recently featured on Worldwide Business with kathy ireland®, an award-winning television series that airs globally on major cable networks. The full interview can be viewed here: https://youtu.be/PofsuMPnMTg