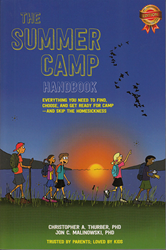 Whether parents are just starting their summer camp search or they're already in the middle of it, here are five tips to help out:
Boyd, WI (PRWEB) November 18, 2015
Summer camp is unrivaled in its positive influence on children. Exposing kids to community living during an extended stay away from home produces incomparable personal growth and helps shape who they are. Finding the right camp is extremely important. And now is a good time for parents to start thinking about it. After all, it can be a long process.
Whether parents are just starting their summer camp search or they're already in the middle of it, here are five tips to help out:
1) Camp Type. The type of camp that parents select is a very important factor and can often be the difference of whether a camper enjoys a camp stay or not. There are plenty of types of camps to choose from; between traditional camps and specialty camps, it's not too hard to find a good fit. For kids who are really into sports, try a Sports Camp. For little adventurers, try a Travel and Trip Camp. For a budding artist, try a Fine Arts/Performing Arts Camp.
2) Geographical Location. Whether camp is a block away or a hundred miles away from home has no affect on homesickness or the intensity of it. Kids are either at home or they're not. Homesickness has more to do with not having mom and dad around, so parents shouldn't let it play a part in where they send their kid. Instead, base decisions on how less expensive it is to choose a camp nearby or how many more options there with more distant camps.
3) Session Length. The decision of how long to stay at camp boils down to how long a camper is comfortable with staying as well as how long of a stay parents can afford. Shorter stays are usually better for first-time campers while longer stays allow time for friendships to build and grow strong. Parents should go to their kids for their opinion and give familiar comparisons to help (i.e. "How does a two-week stay sound? That's how long winter break is.").
4) Single-Sex or Coed. There are a couple of things to keep in mind about choosing a single-sex or coed camp. While an all boys or an all girls camp offers their campers an environment with fewer romantic distractions, a coed camp is good exposure for boys and girls who already attend single-sex schools. Most young children are more comfortable making friends of the same sex, but not everyone is the same so parents should be sure to, once again, get their kid's opinion.
5) Daily Organization. From completely structured days to nearly all free time, different camps range greatly on their organization. You can get a lot of information about daily activities from most camp's websites, however, nothing gets the job done like a scheduled visit. Check it out in person to get a sense of the camp's daily activities, what the Cabin Leader-to-Camper ratio looks like, how skilled the cabin leaders are, and the quality of the camp's equipment/facilities.
These tips came from 'The Summer Camp Handbook', written by lifelong friends, Dr. Christopher A. Thurber and Dr. Jon C. Malinowski. The book discusses each of these tips in great detail, spanning 38 pages. Pick up their excellent guidebook for much more in-depth material about choosing the right camp as well as filling out medical forms, packing, avoiding homesickness, and more!
With excellent information like this jam-packed throughout, 'The Summer Camp Handbook' is a wealth of valuable information for any parent sending their kid to camp. To get more tips on the topic, check out 'The Summer Camp Handbook' available at summer camp outfitter, Everything Summer Camp.
About Everything Summer Camp
Everything Summer Camp has been helping kids get ready for summer camp since 1987. Their wide selection of camping gear includes camp trunks and other camping supplies. Top selling items include water bottles, cot-sized bedding, rain jackets, insect repellent, iron on labels, and more. Known for their customer service and fast shipping Everything Summer Camp is recommended by more camps than any other camp outfitter.
Visit http://www.EverythingSummerCamp.com to learn more about camp footlockers, name labels, duffel bags, and camping supplies.