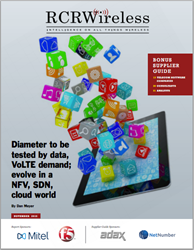 Diameter platforms remain an unsung hero of today's modern LTE networks, make no mistake about their importance.
Austin, Texas (PRWEB) November 18, 2015
RCR Wireless News spoke with more than a dozen companies, including vendors like Ericsson, Sonus, F5, Oracle, Mitel, Adax and Alcatel-Lucent; and sought insight from industry analyst firms Exact Ventures, Infonetics Research and Signals Research to get a thorough update on the current Diameter market.
The report, entitled: "Diameter signaling impact/benefits/challenges in a NFV, SDN, cloud world," contains vital takeaways including how the market has evolved over the past 12 months; where we stand today in terms of Diameter development and deployment; challenges facing the Diameter market; the impact new services like voice over LTE and increased consumer demand for mobile video are having on Diameter; what impact virtualization technologies using software-defined networking, network functions virtualization and cloud are having on Diameter; and what can be expected from the market over the next 12 months.
"One network element increasingly coming under the microscope is Diameter signaling, which is the traffic cop tasked with identifying and routing network traffic across IP-based LTE networks to ensure everything runs smoothly. When Diameter platforms struggle, we have seen networks nearly brought to their knees. But, when they are up to the task, they disappear into the complicated morass that is the modern telecom network," said RCR Wireless News Editor-In-Chief Dan Meyer.
Download this report to learn:
● Growth of diameter signaling market, including latest numbers and predictions
● Services driving Diameter traffic
● What's driving growing need for robust Diameter platforms
● Why SS7 remains on the table
● If carriers should be concerned about potential signaling storms
● Impact of virtualization technologies like NFV, SDN and cloud on Diameter
Watch the complimentary editorial webinar featuring:
● Dan Meyer, Editor-in-Chief, RCR Wireless News
● Greg Collins, Founder and Principal Analyst, Exact Ventures
● Bill Welch, Senior Product Manager, Sonus
● Kevin Summers, Senior Director, Mobile Strategy, Mitel
"It appears that a number of technology advances and service trends are set to have an impact on the Diameter market moving forward," Meyer explained. "Then again, if the market is to hit forecasts, that impact is to be expected."
Click here to download the editorial feature report.
About RCR Wireless News
Since 1982, RCR Wireless News has been providing wireless and mobile industry news, insights, and analysis to industry and enterprise professionals, decision makers, policy makers, analysts and investors. Our mission is to connect, globally and locally, mobile technology professionals and companies online, in person, and now on video. Our dedication to editorial excellence coupled with one of the industry's most comprehensive industry databases and digital networks leads readers and advertisers to consistently choose RCR Wireless News over other industry publications. http://www.rcrwireless.com