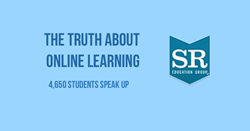 We have been collecting student reviews on online colleges for seven years, so we have unique insights
Kirkland, WA (PRWEB) November 18, 2015
SR Education Group, an education research publisher founded in 2004, just released a study analyzing 4,650 student reviews of online colleges called "The Truth About Online Learning" on its flagship site Guide to Online Schools. The study is the first report to quantify the opinions of graduates from online colleges in the United States. Over 5 million students are taking classes online and that number has been growing in recent years. The popularity of online schooling is soaring, but no one has yet analyzed whether or not it's a viable educational method. "The Truth About Online Learning" looks at how online education fares in relation to traditional campus colleges, how online non-profit schools perform vs for-profit schools, and identifies the shortcomings of online schools.
"With the recent growth of online colleges, there have been many questions about its effectiveness and viability as a learning platform. We have been collecting student reviews on online colleges for seven years, so we have unique insights to the qualitative assessment of this platform." says Sung Rhee, CEO of SR Education Group. "Our analysis has yielded some surprising results about how online colleges compare to traditional campus programs and where their shortcomings are. We are excited to share our findings with the institutions so they can better serve the needs of online students."
SR Education Group has been collecting student reviews on its site, GradReports.com, since 2008. For seven years, online, hybrid, and on-campus graduates have submitted 14,154 alumni reviews from 1,679 schools. The 4,650 reviews used in the study were vetted for authenticity and are from graduates who completed their degrees entirely online. Each graduate was able to rate their college on several facets including degree satisfaction, quality of instruction, career helpfulness, and financial aid. Each rating was analyzed to uncover the principle issues surrounding online colleges and online learning. To review all the findings of The Truth About Online Learning, click here: http://www.guidetoonlineschools.com/online-schools/the-truth-about-online-learning.
About SR Education Group
Headquartered in Kirkland, WA, SR Education Group was founded in 2004 by CEO Sung Rhee. The company's mission is to create authoritative online resources for students seeking an online education program that best suits their budget and career aspirations. SR Education Group is passionate about making quality education attainable for everyone and believes that objective information about education, careers, and educational financing should be free and easily accessible. For more information, please visit http://www.sreducationgroup.org.