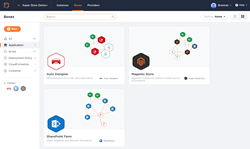 "ElasticBox offers a very powerful IT workflow and provisioning automation platform combined with an intuitive user interface we are proud to expose to our internal customers." ~Michael Ferioli, VP of SaaS Operations, Brainshark
San Francisco, Calif (PRWEB) November 19, 2015
ElasticBox, the hybrid cloud application manager, today announced ElasticBox 3.5. This release is filled with new capabilities to enable IT organizations to drive value, productivity and confidence throughout the enterprise. It also enables enterprise IT organizations to orchestrate the deployment of applications and to create a self-service catalog of applications and infrastructure. As a result, the platform provides a highly adaptive model that helps customers standardize the process of deployments and provision environments to ensure the ongoing performance of production applications.
ElasticBox's goal is to reduce the stress and cost of error-prone deployments and updates of critical applications into production. ElasticBox helps IT increase the deployment frequency and enterprise application availability across any hybrid cloud infrastructure. Highlights of the new capabilities include:
Deploy Complete Application Stacks
Customers can now embed an entire set of script and application components into a single box. By linking a desired deployment policy box, users can deploy a complete multi-tiered application in a single click. IT and application owners still have the ability to modify any of the parameters for any tier or component, as well as redefine a target destination for the deployment. By bringing ease-of-use to the deployment process, complex scripting and configuration can be abstracted at the time of execution; saving time and guaranteeing predictability of the application in production. Similar to other component and deployment policy boxes, the application boxes can be saved and shared across authorized workspaces and users within the service catalog.
Interactive Application Modeling Topology
In addition to the application box being enabled for deployment in a single click, ElasticBox now provides an interactive visualization pane for any application that has been created or architected within the service catalog. This view enables authorized users to modify existing bindings between components of the application, view status of the application layers and edit variables of the components themselves. This functionality ensures that users can better manage any layer of the application in real-time without being required to make extensive script or coding modifications. Ultimately, the visualization simplifies the understanding of the application topology directly within the dashboard for quick insights and decision-making.
Enhanced Container Support
With ElasticBox's commitment to enabling customers to deliver and manage any type of application, this release features deeper capabilities for customers to present their applications in containers. ElasticBox 3.5 provides the ability to create a container based on the box (or application) parameters which could be a container such as Docker. This process occurs natively within the ElasticBox platform and can be instructed from a command-line input. Once the container is built, the deployment policy boxes remain consistent, as with standard VMs, by defining the deployment and target destination for the container. Users have full visibility and manageability of the running application that's deployed in a container.
Continued Investments
With many enterprise IT organizations continuing to evaluate the feasibility of implementing cloud computing technologies within their own environment, mission-critical applications remain the primary consideration for such decisions. Below is a list of on-going investments:
Management: Enhanced IT administration portal for managing users and permissions via AD or SAML environments, cloud infrastructure provisioning and reporting insights are available for key decisions related to performance.
Self-service portal experiences: IT can better manage users and workspaces while also defining which applications are made available based on internal policies defined by the enterprise. Self-service users include – application owners, IT administration and line-of-business users.
Public Boxes: Since the initial release of Public Boxes, ElasticBox continues to add more validated and curated application boxes that can be deployed into a customer's environment. These reference architectures feature some of the most common applications and continues to grow as ElasticBox standardizes more application stacks.
Hear What Others are Saying
"ElasticBox does a good job of supporting the application deployment process and infrastructure management with its self-service portal and box blueprints for popular and widely-used software components, including containers. This means application owners and IT operations can more effectively collaborate on applications and releases with visualization for traditional, production, mission-critical and multi-tiered applications."
~Jay Lyman, Research Manager, Cloud Management and Containers, 451 Research
"ElasticBox allows us to create predictable and repeatable processes removing the need for manual infrastructure provisioning and configuration. The solution offers a very powerful IT workflow and provisioning automation platform combined with an intuitive user interface we are proud to expose to our internal customers. Adding ElasticBox to our continuous delivery pipeline has virtually eliminated the human element from our application delivery process."
~Michael Ferioli, VP of SaaS Operations, Brainshark
Product Information and Availability
ElasticBox 3.5 is generally availability and is consistent with the existing subscription model (per user, per month) pricing over 1-year agreements. Customers automatically gain access to the latest features that are enabled in both the SaaS and on-premises Virtual Appliance platform offerings. For more information, please contact us.
Resources
● ElasticBox Blog
● ElasticBox LinkedIn
● Twitter: @ElasticBox
About ElasticBox
ElasticBox enables IT organizations to deploy and operate at scale based on unique infrastructure and application stack requirements, so businesses can innovate faster. By orchestrating the deployment of applications to private and public clouds, customers like Netflix, DeNA and Cytobank have accelerated their application deployments by 10x. With flexible and scalable boxes that are reusable, IT can leverage ElasticBox to provision complete application stacks in a single click, offer a sophisticated service catalog of enterprise applications and infrastructure, and increase the availability of application services in production.