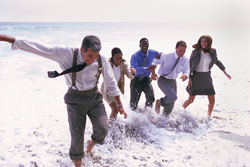 Many companies have already discovered that dollar for dollar, a sales meeting, convention or incentive program at sea is a both a true value as well as a crowd pleaser.
Kansas City, MO (PRWEB) November 19, 2015
Many companies have already discovered that dollar for dollar, a sales meeting or convention at sea is a both a real value as well as a crowd pleaser. When companies do the math for hotel rooms, meals, meeting rooms, audio visual equipment, entertainment, etc. vs everything that's included in a comparable class of cruise, cruises win every time. By adding complimentary, customized websites where sales staff register as well as find out more about the ship, destination, excursions, agenda, etc. companies can save $15,000 to $60,000 off the cost of the meeting while saving their personnel the hassle, time and headaches normally required to track the program.
Onboard staff are another complimentary inclusion for groups of 50 or more and they man a hospitality desk daily to deliver level of service even higher than that already available onboard. A team building, special event or corporate responsibility shore excursion is another Cruise Dreams inclusion at no charge for 50+ passenger meetings.
"We pride ourselves on making incentive and group travel programs both amazing and affordable," explains Kim Gibbons, President and Founder of Cruise Dreams. "What we discovered over the last 17 years is that these three extras can really enhance the experience of an incentive group, sales meeting, reunion or other group but are often unaffordable. So we figured out a way to include them at no charge."
"We recently planned a smaller sales meeting for a company that had always done a 2 night hotel program, "adds Gibbons. "We put together a 3 night cruise that of course, included all meals, free meeting space and audio visual equipment, plus a specialty team building event on shore and still saved our client over 15%!"
Cost containment and savings aren't the only benefit. Adding excitement to sales meeting with new destinations and the on-going improvements in the highly competitive cruise industry surpass the new enhancements offered by anything except the most deluxe hotels.
Entertainment is ratcheting up also with concerts in port from the like of Chicago, Lady Antebellum and Jewel, Broadway style productions shipboard, and local immersion opportunities.
Another option is to couple your sales meeting with an incentive trip. Some companies reward top performers with higher category staterooms, the ability to bring family members, pre and post options and more. Others add high value customers to the mix for relationship building and more face time with their best clients as well as rewarding loyalty and increased business.
Many companies are finding that, with a captive audience on days at sea, networking appears to happen more spontaneously as well as frequently. It's a great way to use time together for both employees as well as customers in a way that most hotel programs don't seem to foster.
This is particularly important when a meeting, or product launch is combined with incentive trips. Many companies find that participants just "vanish" during free time at hotels in Hawaii and Las Vegas for example yet seem to mingle, group and collaborate more shipboard. Which is a positive result, whether the group is composed of employees, customers or both.
The sheer variety in shorter cruises in terms of length, destination, departure date, etc. is a plus for most companies and allows them to incorporate these many factors into their plans.
"It's important," states Gibbons, "for us to really work with the company to understand their participants and their goals so we can choose the appropriate length, itinerary, time at sea, and activities to complement their experience and meet their budget and expectations both. – That's where we really excel – exceeding expectations and creating a truly memorable experience while keeping within or even under budget."
The "WOW" factor is already included in a cruise, too. With hotel based meetings, everyone has to scramble, usually for off-site activities, to create exciting entertainment and activities. Cruise ships offer spectacular entertainment, included, as well as all kinds of different meeting spaces, all with basic AV included.
Cruise ships, with an agency like Cruise Dreams, can make attendees feel like VIPS all the way around with special amenities, priority seating for various activities, and exclusives that Cruise Dreams arranges.
Sales meetings at sea with a minimum of 25 staterooms (50 participants) receive all the described extras for 2016 or 2017 meetings at no additional charge: customized group travel booking and information website, on board hospitality staff and corporate social responsibility or team building shore excursion.
Cruise Dreams, a niche travel company, specializes in individual and group travel or cruises plus corporate incentive travel at sea or on land. Whether it is a cruise for two or two hundred, a full ship or partial ship charter or a stay at a 5-star all-inclusive luxury property world-wide, Cruise Dreams is known for expertise, negotiating savvy, destination knowledge and exemplary customer service. For more information, visit http://www.cruisedreamsincentivetravel.com or call 1-877-999-4533.