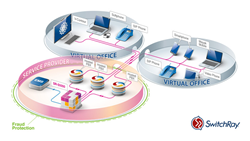 SwitchRay's SR-S5000 softswitch provides the precise combination of cost effective features including advanced routing and billing," commented Sandra Ximena Diaz Hoyos, CEO & President, Smart Network Solutions
Mission Viejo, CA (PRWEB) November 18, 2015
SwitchRay, a leading vendor of telecommunications software, recently announced a license agreement with Smart Network Solutions Communications Corp., a leading telecom solutions integrator and VAR distributor to market SwitchRay's advanced Class 5 softswitch SR-S5000, a proven stable performer in the telecommunication's market.
Smart Network Solutions delivers reliable telecom solutions and is a VAR to some of the biggest brands in the market by providing optimal telecom solutions and increased functionality to its customers. Smart Network Solutions is SwitchRay's authorized distributor, and may sublicense, install, maintain and technically support SwitchRay's software products.
"We are always seeking the best available technology to support our customers' needs. SwitchRay's SR-S5000 softswitch provides the precise combination of cost effective features including advanced routing and billing," commented Sandra Ximena Diaz Hoyos, CEO & President, Smart Network Solutions. "We are extremely pleased with how well SwitchRay's Class 5 softswitch performs and are impressed with their responsive team of dedicated sales directors and engineers."
Steve Petilli, President & CEO of SwitchRay Inc. also commented saying: "We are very excited about this partnership with Smart Network Solutions. It is our priority to offer the best-in-class technology and solutions for our new customers in the Central and Latin America region and we look forward to our continued and successful partnership."
About SwitchRay Inc.
SwitchRay Inc. delivers state-of-the-art communication service platforms to telecom carriers worldwide. Their mission is to provide highly reliable and scalable products that are rich in functionality, allowing its customers to build successful businesses by increasing their profits and lowering their total cost of operations. With its keen attention to detail and unwavering commitment to exceptional customer service, SwitchRay optimizes communication and builds a brighter future for the world to connect. Headquartered in California and founded in 2012, SwitchRay acquired the products previously marketed and sold by Aloe Systems and Mera, enhancing the products with additional features and functionality. For more information on SwitchRay's communications service platforms, please visit http://www.switchray.com and/or email info(at)switchray(dot)com.
About Smart Network Solutions Communications Corp.
Located in Miami, Florida since 2002, Smart Network Solutions has branches in 4 countries and 6 offices with partners in 16 countries in Latin America and Caribbean with direct employees in Brazil, Costa Rica, Peru, Columbia, Mexico and in the US. The most recent projects within the region are Telebucaramanga in Bucaramanga and Metrotel in Barranquilla, Colombia. Smart Network Solutions' partners have more than 20 years of telecom experience, developing projects for Carriers, ISPs, Contact Centers and Corporations in Latin America & Caribbean. They also offer Hosting Services (Softswitch Class 5), SS7 signaling, Collocation (Data Center) and Videoconference on the Cloud. For more information visit http://www.smartisvoip.com.
For media inquiries, contact:
Dina Scaglione, Director Marketing & Sales Operations
949.910.9401